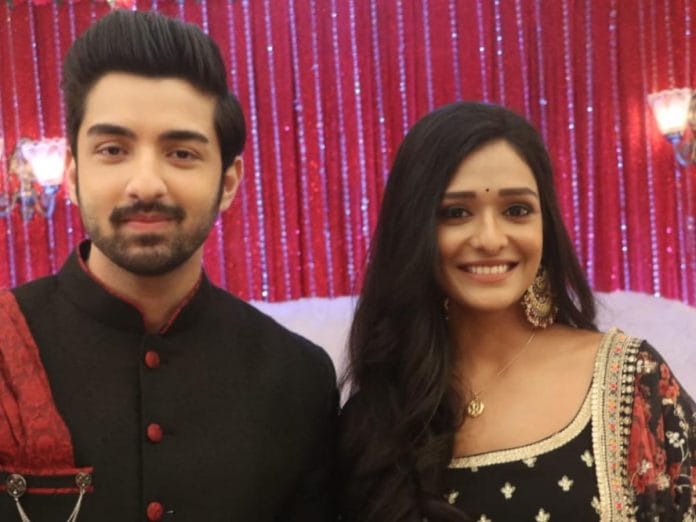 BhagyaLakshmi 22nd November 2022 Written Update On TellyExpress.com
The episode starts with Lakshmi saying to Karishma that she doesn't know where is Malishka but she believes the truth will come out one day. Karishma says her truth will come out in a few hours and reminds Lakshmi that Malishka is going to be this house daughter in law and says to Lakshmi that nothing should happen to her and says if something happens to Malishka she will make her life hell. Karishma leaves from there.
Balwinder sees Malishka and praises her disguise as even Virendra couldn't identify her. Balwinder teases Malishka. It is shown Malishka makes her face black so that Virendra doesn't identify her. Malishka blames Lakshmi for her situation. Malishka lashes out at Balwinder and says because of Lakshmi her face became black again and says she is not going to leave Lakshmi and says she is going to kill Lakshmi. Malishka says this is enough and says to herself that she is going to take everything from her. Malishka asks Balwinder to do exactly as she says. Malishka offers money to Balwinder saying she will give him no matter how much he wants. Balwinder asks Malishka what does he has to do. Malishka asks Balwinder to kidnap Lakshmi. Balwinder goes to kidnap Lakshmi.
Virendra says to Kiran that it is not right to come to a place like this and says he followed her thinking she came here thinking the kidnappers called her. Kiran says she just followed the girl and came here. Kiran asks Virendra if she should drop him. Virendra says no and says his car might be ready.
Lakshmi prays to God for Malishka's well being. Balwinder thinks of what Malishka is going to do to Lakshmi? Balwinder calls Guddu for his help. Balwinder says to Guddu he has to bring a parcel and offers him 2 crores. Guddu asks what is the parcel. Balwinder says they have to kidnap Lakshmi.
Balwinder calls Lakshmi from the disco. Balwinder says to Lakshmi that he has some information about Malishka and asks her to come. Lakshmi doesn't get convinced but later decides to meet him as she doesn't have a clue about Malishka. Balwinder cuts the call. Guddu praises Balwinder. Balwinder says to Guddu that Lakshmi is going to die and says Malishka has prepared everything. Guddu asks about it. Balwinder says to Guddu about the plan. It is shown Malishka tells Balwinder that he has to bring Lakshmi here and says she is going to kill Lakshmi and she is going to tell everyone outside that she accidentally killed Lakshmi trying to escape from her. Balwinder reminds Malishka not to double cross him. Malishka reminds him of his status and tells him to do the work. Balwinder agrees. Balwinder says after the work is completed they are going to Bangkok.
Lakshmi sees a person is unconscious on the street but when she turns the person over she sees that the person has a mask on his face. Balwinder catches Lakshmi from the back and puts her in the car. Guddu drives the car. Lakshmi sees Rishi's car passing by and calls for Rishi. Balwinder sees this and shuts Lakshmi's mouth. Guddu over takes Rishi's car and leaves from there.
Episode ends
Precap – Malishka says to herself this weapon is for Lakshmi and Lakshmi's death. Kiran says to Abhay that Lakshmi didn't kidnap Malishka and says Malishka Kidnapped herself. Malishka says to Lakshmi that she kidnapped herself. Lakshmi says to Malishka that she will never be able to separate Rishi and her. Malishka and Lakshmi get into a struggle with each other and both of them fall down. The blood is shown to be on the weapon.
Also See: