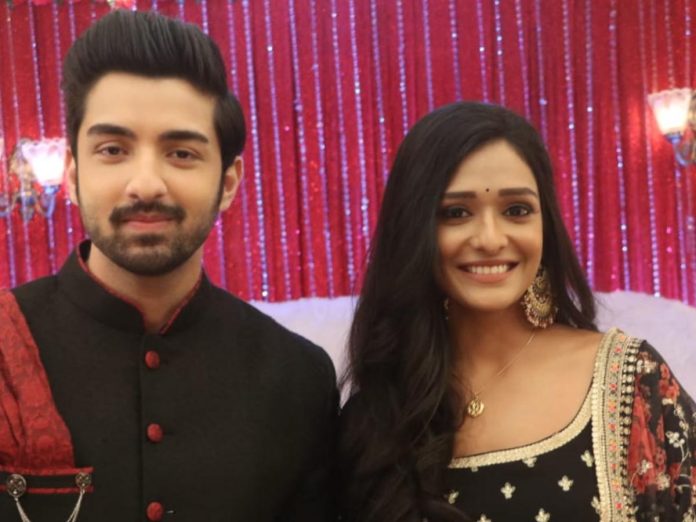 BhagyaLakshmi 23rd June 2022 Written Update On TellyExpress.com
The episode starts with Rishi and Lakshmi arguing infront of the Judge. Judge sees that they are bickering like a couple and smiles at them. The Judge asks if they are happy with this relationship. Neelam comes and says no as I know Lakshmi would not have told you the whole truth. Karishma praises Malishka and says it's a good idea to send Neelam to the Judge. Malishka says you know how I felt when Rishi asked me not to come. How much I suffer if it is another person then he would have left. Karishma says you have to celebrate as Lakshmi is leaving. Malishka agrees and says yes.
Neelam says to the judge that Lakshmi is pregnant not with our son but with her previous ex fiance who wanted to marry her. She wanted to give our Oberoi name to a driver's son. The judge asks Lakshmi if it is true. Malishka is shown to prepare for the party. Karishma encourages her and Dadi comments on her. Malishka sees that Rishi is coming and asks him to stop and give her the good news. Malishka says now Lakshmi is no more and pulls the blaster. Lakshmi comes into the house. Everyone is shocked seeing Lakshmi.
Karishma asks why did you come back. Neelam comes behind Lakshmi. Karishma asks Neelam why did Lakshmi come back. It is shown that Neelam says to the judge that she hid about her pregnancy from us and she did not tell about it even to Rishi. She acted as the child was ours. Judge asks Lakshmi about it. Lakshmi stays silent. Judge says it seems you two need to talk I will give you 24 hrs talk what you have to. Then I will make a decision.
It is shown now Neelam says this to Karishma. Lakshmi goes inside. Malishka asks why does Judge always take her side. Neelam says it's not the judge fault as someone always looks like she is a victim anyone will feel bad for them. Neelam says now she became a bad luck in our life. Neelam and Karishma talk about Rishi and Lakshmi as they have to go tomorrow to the court and they will not be in the engagement. Malishka says why is no one talking about me as I had thought that Lakshmi will be gone today but no she came back as curse in my life.
Rishi says to Malishka to calm down. Malishka gets angry and walks away. Neelam tells Rishi to handle the situation. Rishi says he will handle it his way. Rishi goes to Lakshmi and forces her to answer his questions. Lakshmi gives in and tells him to ask. Rishi asks why is everyone looking at me as if I made a mistake. Lakshmi says who said you made a mistake. Rishi asks I thought you would tell the truth that the child is not mine. But no do you how much I suffered because of this. Lakshmi says she is the one most suffered in this relationship. Rishi walks away getting angry.
Malishka calls Rishi but he leaves without listening. At the dining table, Karishma says glad Ayush and Ahana are not at home. Neelam says she is feeling bad for Malishka. Virendra asks where is Lakshmi. Neelam asks why he cares for her. Malishka says she is worried for Rishi as he left home without listening to me and Lakshmi is the reason for his behaviour. Lakshmi comes there and says he will return. Neelam says we know about our Rishi so don't tell us about him. Neelam leaves food and asks them to call her when Rishi returns. Malishka blames Lakshmi for spoiling their peace.
Lakshmi thinks hope Rishi is fine. Later Lakshmi calls him to know where is he but he doesn't attend her calls. She comes downstairs and asks Mukesh if Rishi came. Mukesh denies. She asks him to not tell anything to Neelam and Virendra. She thinks to search for Rishi by herself. That time Malishka brings drunken Rishi to home. Mukesh tries to help him but he denies. Rishi is about to fall but Lakshmi holds him. He asks why she did it with him and asks Lakshmi to answer him. Lakshmi sends Rishi room with Mukesh. Malishka asks Lakshmi why she is playing games by stooping to the low level.
Episode ends.
Also See: