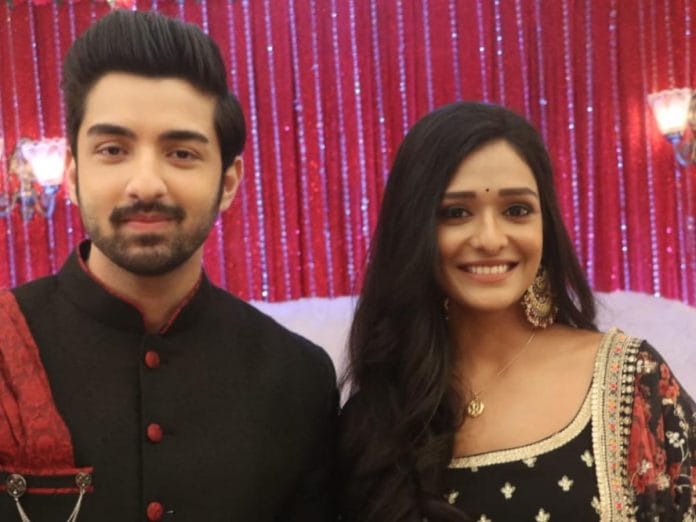 BhagyaLakshmi 24th November 2022 Written Update On TellyExpress.com
The episode starts with Lakshmi saying to Malishka that she doesn't love Rishi and says this is only her stubbornness and says if Rishi loves her then he wouldn't have left her. Malishka says Rishi loves her and between Lakshmi's mangalsutra and her love today she will prove that her love is strong. Malishka tries to stab Lakshmi and Lakshmi defends herself. They both try to get the weapon. Malishka stabs Lakshmi and they both fall on the ground.
Balwinder wakes Malishka up who is sleeping. Malishka wakes up from her dream and says she killed Lakshmi. Balwinder says he still didn't bring Lakshmi here and says she is daydreaming. Malishka feels frustrated as it is only just a dream and shouts out.
Ayush and Shalu look for Lakshmi. Ayush mistakes a passer by for Lakshmi and calls her. Ayush sees that it is a passer-by and apologises to her. Shalu asks Ayush not to worry. Rishi brings Lakshmi who is unconscious to the doctor. The doctor checks Lakshmi and says she is fine.
Ayush and Shalu calm each other down. Shalu asks Ayush why Lakshmi has to prove herself every time. Ayush comments on it. Ayush shares his suspicion with Shalu that there is a connection between Malishka's kidnapping and Lakshmi's missing. Shalu agrees. Ayush says he will call Shalu if he has any information about Lakshmi and asks Shalu to go. Shalu leaves from there.
Rishi brings Lakshmi who is unconscious to their room. Dadi sees Rishi carrying Lakshmi. Rishi puts Lakshmi in bed. Dadi asks Rishi what happened to Lakshmi. Rishi says he will tell later.
Kiran worries about Malishka and wishes for Malishka and Rishi to be together if not Malishka will be crazy her whole life. Virendra and Neelam wait for Lakshmi to wake up. Rishi asks Virendra he doesn't know what happened to Lakshmi and says he saw Lakshmi unconscious in the middle of the road. Ayush sees Lakshmi and asks if Lakshmi is fine. Ayush feels relieved as he saw Lakshmi and goes to tell Shalu about it.
Shalu says to Rano that Lakshmi is missing. Rano asks about it. Shalu says she found Lakshmi's car in the middle of the road. Ayush calls Shalu and says they found Lakshmi and says she is fine. Shalu asks Ayush to allow her to talk to Lakshmi. Ayush thinks he should not tell Shalu that Lakshmi is unconscious. Ayush makes up a reason and says he will make Lakshmi talk later. Shalu agrees. Shalu shares the good news with Rano.
Rishi asks Virendra what is Ayush talking about? Virendra and Neelam say Rishi not to think about it. Rishi says he cares about Lakshmi and says he will go and talk to Ayush.
Rishi asks Ayush what happened. Ayush says to Rishi that Malishka is kidnapped and says Lakshmi is suspected in Malishka's kidnapping. Rishi asks Ayush who blames Lakshmi. Ayush says everything that happened. Rishi says he can't believe that Kiran will think like that and goes to talk to her.
Virendra asks Ayush what happened. Ayush says they found Lakshmi's car in the middle of the road unlocked and they were worried about Lakshmi. Neelam says to Dadi this must be a new drama of Lakshmi. Virendra says once Lakshmi wakes up we will know what happened.
Rishi comes to Kiran and says what she did is not right. Rishi says he thinks she can understand people really well but she proves that he was wrong and says Lakshmi will never do that. Rishi asks Kiran to take back the complaint from the police. Kiran says she also realised that she made a mistake and says they found Lakshmi's earring in Malishka's room. Kiran says even if she takes back her complaint the police will look for Malishka and says Lakshmi is the prime suspect and asks what will it matter if she takes back her complaint or not. Rishi hearing this leaves from there. Kiran thinks Malishka's plan might backfire against her this time.
Episode ends.
Also See: