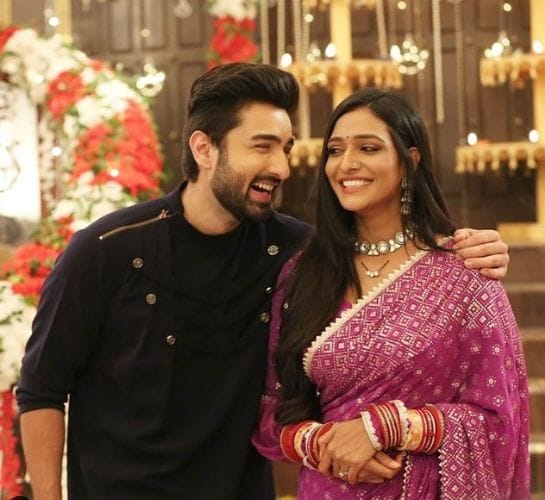 BhagyaLakshmi 24th September 2022 Written Update On TellyExpress.com
The episode starts with Rishi thinking about why Lakshmi didn't come. He thinks Lakshmi is angry at me for taking the blame but I'm feeling alone and he waits for Lakshmi. Lakshmi tells Ayush that she wants to meet Rishi. Ayush says you guys are incomplete without each other and don't know when you guys understand. He says let's go to jail. Shalu says she will join them too. Ayush asks why she is coming. Shalu says Rishi is her brother in law. Sonia asks Lakshmi why does your sister come here again and again and she disrespects Shalu calling her an illiterate. Virendra scolds Sonia saying Lakshmi is daughter in law of this house and Shalu is her sister and that's why she doesn't need any permission to come here. He warns her to never disrespect anyone and asks her to go inside. Sonia leaves. Virendra apologises to them. Lakshmi asks why he scolded her. Virendra says Sonia didn't behave well. Lakshmi asks hows Neelam. Virendra says Neelam is angry and tells them that he will accompany them to jail. Lakshmi asks him to not take tension and requests him to stay at home for Neelam as she needs him. Virendra says wish Neelam can understand what she is missing. He says he is going to Neelam and leaves.
Shalu goes to drink water. Sonia stops Shalu from drinking water. She warns Shalu to not enter their house. Shalu asks didn't she understand her Dad's words? Sonia says don't use my Dad's goodness. Shalu says it's good that you can see your Dad's goodness as I thought you can't see anyone except Malishka. Sonia says Malishka has class like us unlike you guys and you're coming here to enjoy the luxuries of our house. Shalu says we lived luxurious life than you in our village but we didn't forget our values and didn't let my parents feel low like you. Karishma cones there Bd warns Shalu to shut her mouth. Shalu says it's Sonia's mistake. Karishma says it's their mistake to make them enter their house. Shalu rebukes them and leaves.
Ayush sees Shalu coming out of Kitchen in anger. He asks her what happened. Shalu tells him whatever happened in the kitchen. Ayush asks what is the need to answer them back.
Balwinder ruins everything in his place. He says to Guddu that Abhay is correct about him. Guddu asks him to forget Lakshmi and you can get more girls. Balwinder says I just want Lakshmi as I madly love her. Shalu doesn't agree with Ayush and they argue with each other. Lakshmi stops them and says Rishi might be waiting for her. Ayush says let's surprise Rishi. Lakshmi asks what's it. Ayush smiles and says I will tell you later.
Guddu says he doesn't know that he loves Lakshmi so much. Balwinder asks if he can see in his eyes. Guddu says he can. Balwinder says I will meet Pandit to know the remedy to get Lakshmi. Guddu says I will make you meet Pandit tomorrow. Lakshmi, Ayush, and Shalu go to the police station to meet Rishi. Inspector says they can't allow more visitors as Malishka already met him. Shalu requests him to allow Ayush and Lakshmi. Inspector allows them and tells them they have only 10 m. They thank him. Ayush reminds them about the surprise and he goes to meet Rishi. Rishi holds Ayush's collar and asks where is Lakshmi. Ayush says she has other work. Rishi feels disappointed and asks how can she do it. Shalu takes Lakshmi outside.
Lakshmi tells Shalu that it's tough to stay in jail. Shalu asks her to give courage to Rishi. She agrees. Ayush talks funnily. Rishi asks him to leave and tells he can't get peace until he meets Lakshmi. Ayush says you met Malishka. Rishi says I don't forget that Malishka gave importance to me not to work as Lakshmi did. Constable asks Rishi to come to the meeting room a lady is waiting for him. Rishi goes to the meeting room. Lakshmi closes his eyes. Rishi realises it's Lakshmi but he says Malishka's name to tease her, which upsets Lakshmi. She says she will send Malishka and is about to leave. Rishi stops her and pulls her towards him.
Episode ends.
Also See: