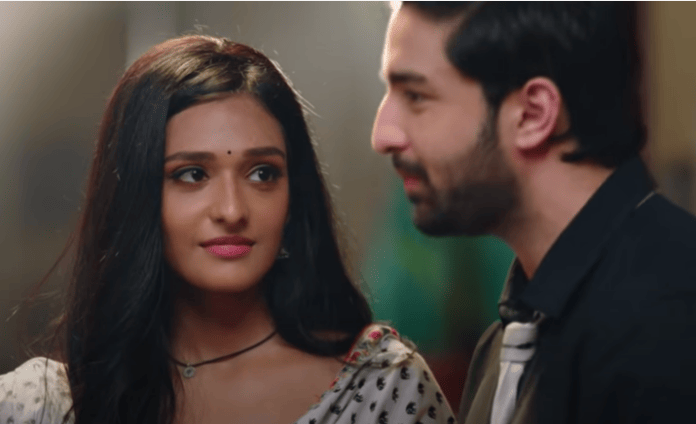 BhagyaLakshmi 26th January 2023 Written Update On TellyExpress.com
The episode starts with Balwinder thinking Shalu is Lakshmi. Lakshmi asks Balwinder to stop. Everyone gets surprised to see Lakshmi coming from outside. Ayush asks Lakshmi why did she come here? Neelam thinks if Lakshmi is here then who is dressed as the bride? Rano asks the bride who is she? Rano takes off the Gungat and sees that it is Shalu. Rano gets surprised to see Shalu. Balwinder asks Shalu what is happening here? Lakshmi asks Shalu what is all this? Bani asks Lakshmi why did she come back? Ahana says Lakshmi is with her and says she took her away as she is almost losing consciousness. Shalu asks Lakshmi why did she come back. Lakshmi says she came back for Bani as she thought Bani will marry Balwinder if she is not here. Balwinder asks his friends what were all they doing as all this happening? Balwinder says to Lakshmi that he is going to marry her today no matter what. Lakshmi agrees and says this marriage will happen. Rano tells Lakshmi to get ready. Balwinder says there is no need for that as Lakshmi is looking good. Balwinder asks the Pandit to start chanting Mantras. Lakshmi thinks how can she exchange her place with Kamli if she doesn't go to change the clothes. Neelam sees all this and comments on Lakshmi's inauspicious destiny. Balwinder takes Lakshmi and sit in the Mandap.
Malishka sits with Rishi tied up. Malishka calls Sonal. Sonal asks Malishka if where is Rishi? Malishka says Rishi is unconscious and with him. Sonal asks what happened.
Balwinder and Lakshmi are shown to be doing Pooja for the marriage. Balwinder's friends comment on Lakshmi. Malishka tells Sonal what happened. Sonal praises Malishka for her smart thinking. Malishka hopes Lakshmi marriage will be done by the time Rishi wakes up. Sonal agrees.
Pandit ji asks Balwinder and Lakshmi to get up for Phere. Balwinder asks Lakshmi to stand up to take pheras. Lakshmi gets up and takes pheras with Balwinder. Neelam feels happy. Everyone throws flowers at them. Rishi regains his consciousness and says Lakshmi's name. On another side, Pandit says the pheras are completed and asks Balwinder to tie the nuptial chain in Lakshmi's neck. Lakshmi holds her nuptial chain tied by Rishi. Balwinder sees it and asks her to remove it. Rano breaks her mangalsutra. Lakshmi comes out from her imagination.
Rano asks Lakshmi to get married in a normal dress and no need for a new wedding dress. Lakshmi thinks about Kamli. Balwinder aunt makes Lakshmi wear the varmala. Rishi unties Malishka. He asks Malishka to untie him. She unties him and thanks him. Rishi says he is going to stop the marriage. Malishka asks why to go there Lakshmi might already be married. Rishi says he will go and leaves. Malishka takes the stone in her hand.
Balwinder sits in the mandap and asks pandit to start the wedding rituals. Lakshmi thinks about how to fulfill her promise to Kamli. She drops her saree pallu in the Agnikund. Everyone gets worried and stops the fire on time. Balwinder's aunt says it is inauspicious and asks Lakshmi to change her dress. Rano asks Shalu to give the wedding dress she wore to Lakshmi. Lakshmi and Shalu leave. Balwinder scolds his aunt and asks her to bring Lakshmi to the mandap without any mishap. Aunt assures him and leaves. Gudda asks Balwinder to get freshen up to match Lakshmi's standards. Balwinder agrees.
Rishi turns. Malishka hides stone. Rishi asks Malishka if she is returning home and coming with him. He turns then she drops the stone. Bani confronts Lakshmi about why she burnt her pallu intentionally. Shalu asks Lakshmi if Bani is correct. Lakshmi tells Shalu and Bani about Kamli. She asks them to help her to get Kamli to get married to Balwinder. Shalu asks why she didn't tell them before. Lakshmi says for Kamli's safety. Bani and Shalu agrees to support her.
Episode ends.
Also See: