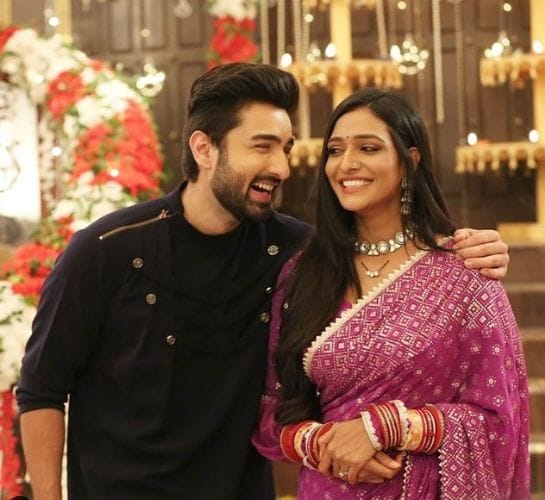 BhagyaLakshmi 26th November 2022 Written Update On TellyExpress.com
The episode starts with Rishi not agreeing with Ayush's theory and says Malishka would never do anything like that. He says if Malishka did something like that he would never even see Malishka. Rishi and Lakshmi decide to go to the disco to search for some clues.
Kiran tries to convince Malishka to stop her plan. Malishka says either Lakshmi will go to jail or Malishka will go to jail and says she can never go to jail. Malishka cuts the call. Balwinder pleads with Malishka to not tell his name if she got caught. Malishka says anything like that will never happen. Balwinder asks Malishka to eat Vada pav. Malishka couldn't eat Vada pav as she is not used to eating food like this.
Shalu gets a call from Ayush. Shalu asks Ayush what will happen tomorrow. Ayush says everyone will be happy and says Lakshmi will prove her innocence. Shalu says she just hopes everything will happen just like he said. Ayush flirts with Shalu and says good night and cuts the call.
Lakshmi asks Rishi if he is not getting sleep. Lakshmi says he is proud thinking Rishi is thinking about woman's dignity. Rishi says to Lakshmi that she is unique and says she already knows his relationship with Malishka and says she still feels proud about him as he is thinking about Malishka. Lakshmi asks Rishi to sleep and says she knows nothing will happen to her until he is here and says she also knows he will save Malishka.
Ayush, Rishi, and Lakshmi go to the disco. They ask the disco manager for the CCTV footage. The manager says they don't turn on the CCTV footage and says they will only turn on the CCTV footage at night. Ayush asks Rishi to go.
Malishka thinks she will not allow Lakshmi to win this time. Balwinder sees Lakshmi, Ayush, and Rishi coming out of the disco and hides himself. Balwinder disguises himself as a Muslim woman to escape from Lakshmi and Rishi. Lakshmi sees Balwinder and feels something is wrong. Rishi asks Lakshmi to leave the Muslim woman and says he sent Ayush to look at nearby garages to see if the kidnappers sent their car to the garage.
Ayush asks a garage guy if he got a car here. The garage guy says any car didn't come here. Ayush feels frustrated as he is not getting any clue.
Kiran and Abhay think of how to help Malishka. Abhay says they have to make Neelam think Lakshmi really kidnapped Malishka. Kiran says there is no use and says until they make Rishi hate Lakshmi they can never separate Lakshmi and Rishi. Malishka thinks after Lakshmi's time is over she will be taken by the police. The constable and Inspector talk about Malishka's kidnapping. The constable says a theory that Ayush is also involved in Malishka's kidnapping along with Lakshmi. The constable advises the inspector to arrest Lakshmi and interrogate her. The inspector says we will see. Malishka thinks Lakshmi's game is over this time. Lakshmi feels helpless as they couldn't get any clues. Rishi comforts Lakshmi. Neelam and Karishma talk about Lakshmi. Karishma says she talked to Kiran and says Rishi went to meet Kiran. Neelam says once Lakshmi is proven guilty then Rishi will hate her as Lakshmi's true face will be out. Ayush feels he couldn't help Lakshmi as he is not getting any clues.
Lakshmi asks Rishi to stop the car. Lakshmi identifies the car and says to Rishi this is the car. Lakshmi and Rishi decide to follow the kidnappers car and find Malishka. Lakshmi hides in the car's rear deck. Rishi asks Lakshmi to share her location to be in the safe side.
Episode ends
Also See: