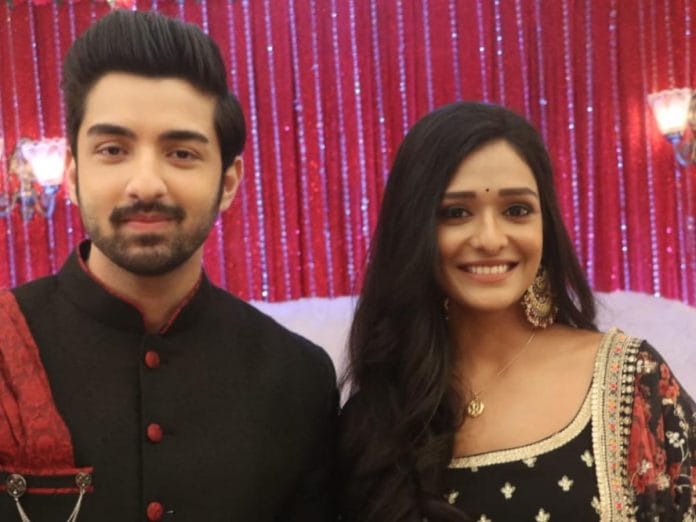 BhagyaLakshmi 2nd August 2022 Written Update On TellyExpress.com
The episode starts with Durga Devi talking to Balwinder and she says sorry as she mistakes Balwinder for someone else. Guddu and Balwinder leave there in a car.
Lakshmi says she came here to give her medicine. Dadi says she will not take the medicine. Lakshmi blackmails Dadi if she doesn't take the medicine she will go downstairs and tell everyone what she was doing here. Dadi takes the medicine. Lakshmi asks Dadi to show the photo but Dadi doesn't. Lakshmi tries to take the photo but Dadi doesn't allow her. When they are arguing Virendra comes and asks what is going on. Lakshmi tells him everything. Dadi shows them the photo and it is the photo of her dead husband. Dadi says tomorrow is his birthday so I was missing him. Lakshmi says let's celebrate and do a small Pooja. Talking about it Virendra has tears in his eyes. Dadi asks why does he have tears. Virendra says he has dust in his eyes and walks away. Dadi says you made my son cry why do you always have to prove that you are best choice for this house daughter in law.
Guddu and Virendra talk. Balwinder blames Lakshmi for everything. Guddu says this is not because of Lakshmi but because of Malishka. Balwinder agrees. Balwinder decides he should meet Malishka at a place where there is no danger for Malishka and me.
Malishka says there is a plan to make Rishi mine. Sonia hugs her and praises her. Sonia closes the door and asks for the plan. Malishka asks Rishi to go to the office. Lakshmi will not be in the office. Then only I and him will be there then I will do something so that Rishi will be mine. Sonia says to go for it.
Ayush and Rishi talk about work. Malishka comes and tries to take Rishi to the office. Ayush stops her and says Rishi has a lot of work and you can't take him to romance. Malishka says she is taking him to the office and not to do romance. Rishi asks Malishka what is the work. Malishka says we are launching a new perfume tomorrow. Rishi tells Malishka to tell this kind of thing before a week. Malishka says she said to him before a month but you are busy taking care of Lakshmi. Ayush says Lakshmi is Rishi's wife and it is his duty to take care of his wife. Ayush gets a call from Shalu and he goes to take it. Rishi thinks of Lakshmi and smiles unknowingly. Malishka asks Rishi to come.
Shalu asks Ayush she called him to talk to Lakshmi not to talk to him as Lakshmi's phone is not going. Ayush saying she can talk to him whenever she wants to. Ayush teases Shalu. Ayush says he likes her and later says like that you feel right and covers it. Ayush goes to give Lakshmi his phone to talk to Shalu. Lakshmi asks who is this. Dadi says Shalu Ayush only talks to her like this. Ayush try to take Laddoo. Dadi says first there is bhog and after that he can eat it. Dadi says tomorrow is your grandfather's birthday and there will be Pooja tomorrow.
Ayush says so they are going to party tomorrow and walks away. Shalu says she is going to apply for a job as she did course in interior decorations. Dadi tells Lakshmi to come tomorrow as there is going to be a Pooja and if her work is good then we will recommend her. Lakshmi tries to tell Shalu. Shalu says she heard everything. She will prepare 4 to 5 ideas and talk to Dadi.
Guddu and Balwinder talk about Malishka. Guddu says Malishka might not take calls from unknown numbers. Balwinder comments on it.
Malishka talks to Rishi. Malishka says have you seen how Ayush is talking to me. Rishi asks what did Ayush say wrong. Lakshmi is my wife and you have to accept it. Malishka says yes for how long you might be forgetting that you are going to get a divorce. Rishi walks away. Malishka goes after him and tries to makes him remember they're happy moments but Rishi says he is not feeling like that.
Episode ends
Also See: