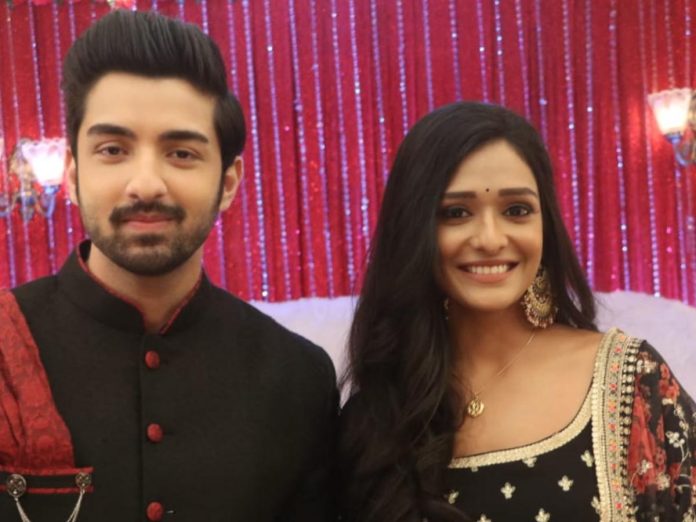 BhagyaLakshmi 3rd August 2022 Written Update On TellyExpress.com
The episode starts with Rishi rejecting Malishka's advances. Rishi pushes Malishka away from and when she is about to fall he pulls her back. Rishi and Malishka argue about it. Rishi says something is different from then and walks away. Sonia sees everything that is happening.
Dadi tells her sweet memories with her husband of when they were married. Dadi also says he used to write Shayaris for her and I saved that diary till now. Lakshmi says she wants to see it. Dadi says no and tells her she also has to take the family forward. Lakshmi feels shy. Dadi goes away from the kitchen. Rishi comes and sees Lakshmi and dreams of him coming and kissing her on her cheek. When the plate falls he gets out of it. Lakshmi calls Rishi and asks what is he doing here and what is he dreaming. Rishi says Dadi told me to come here and get some things but I forgot I will go and ask her. Dadi comes and says how would you know I didn't ask you. Rishi then takes Ahana's name.
Dadi calls Ahana and Ahana comes and asks what does Rishi want. Lakshmi helps Rishi taking Neelam's name. Rishi tries to go and Dadi says there is no need to go and says you are stuck in our time romance. Dadi says to go kiss Lakshmi and Dadi and Ahana leave the kitchen. Lakshmi says the thing that he wants to is in the upper cupboard. Rishi opens and sees that it is Badam. Lakshmi teases of him he will get good memory by eating it. Rishi asks Lakshmi did you feel it for me last night. Lakshmi says what is it. Rishi says I felt it and how can you not feel it. Lakshmi says she has work to do.
Malishka cries thinking of what happened and Sonia tries to handle her. Malishka says she will get back Rishi from Lakshmi and this time Rishi will be only hers.
Rishi asks Lakshmi the same question. Lakshmi says she will not forget if she feels strongly. Rishi says but he felt strongly. Lakshmi asks what did he feel. Rishi says he felt he has to go. Lakshmi asks where he has to go. Rishi says he has to go to work. Lakshmi says do not go anywhere tomorrow as tomorrow is Dadu's birthday. Rishi says he will go in the evening. Lakshmi tells him to go wherever he wants to go. Rishi tells so it will not matter even if I go with Malishka. Lakshmi says no. Rishi goes away. Lakshmi thinks go with Malishka and see what will happen.
Malishka cries and Sonia tells her to stop crying you already decided what you have to do so why are you crying. Kiran comes and sees that Malishka is crying. Sonia tells her what happened. Sonia walks away. Kiran says she has an idea to make Rishi hers and to make Lakshmi leave the house.
The constable brings a friend of Balwinder who is in a drunken state. Durga Devi asks what is the information. He first gives useless information and after the constable forces he tells to Durga Devi Balwinder has trapped a big house daughter in law and they are going to get married after her divorce.
Kiran closes and tells the plan to Malishka. Malishka says Lakshmi might die because of this. Kiran says if Lakshmi dies who is going to feel sad for her? If she dies let her die. With Dadu's birthday anniversary it will also become Lakshmi's death day.
Episode ends.
Also See: