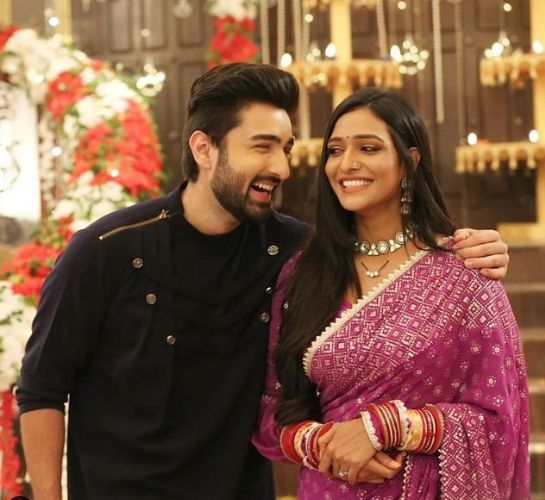 BhagyaLakshmi 4th August 2022 Written Update On TellyExpress.com
The episode starts with Kiran saying to Malishka if Lakshmi dies no one will care. Malishka says there is already a case of Balwinder if this also becomes a case it will be a big problem. Kiran says you made a mistake with Balwinder I will not do that kind of mistake. Malishka praises Kiran.
Durga Devi says we already know about it. The drunken guy insults women. Durga Devi beats him and warns to respect women. Neelam calls Durga Devi and she asks about Balwinder. Durga Devi says we got a lot of information but we haven't captured him. Durga Devi says she will come tomorrow. Neelam says tomorrow is Pooja. Durga Devi says she likes coming in Pooja. Durga Devi self invites herself. Durga Devi cuts the call. Neelam and Karishma talk about Durga Devi. Neelam tells to Karishma that Durga Devi invited herself.
Balwinder and Guddu are drinking in Guddu's house. The door bell rings Balwinder disguises again as a lady thinking it might be police. When Guddu opens the door he sees that it is a woman with her face covered.
Lakshmi is in the preparation for tomorrow's Pooja. Virendra and Dadi talk about it. Karishma hears it and says this is her tricks by doing this she wants to get close. Virendra asks Karishma has she ever thought you should do Pooja on our father's anniversary. No one in our house thought about doing Pooja. Karishma says she is doing it so that we will ask her to stop and live with us forever. Dadi says you read my mind. Karishma goes to stop Lakshmi. Dadi stops her and says she is doing Pooja for your father and warns her to not go.
Virendra thinks of what happened. Neelam asks what is he thinking about. Virendra says he is thinking about Lakshmi. Neelam says not to think about her. Virendra says to her that we might be mistaken about Lakshmi. Neelam says you made a mistake at first and don't forget Lakshmi is a bad sign for our family.
It is shown that it is Kiran who came to talk to Balwinder. Kiran comes and asks for Balwinder. He shows his face to Kiran. Kiran comes and gives money for Balwinder. Balwinder says this is not enough we talked about 5 lakhs. I gave your daughter 1 lakh to enjoy herself. Kiran says if he wants more money he has to do a job for her. Balwinder says Durga Devi is after me because of your daughter. They took my call records. Kiran says it is the duty of the police they will do it. Balwinder asks her what is the work. Kiran says he has to go to Oberoi house again. Balwinder says there are a lot of problems. Kiran says she will handle everything.
Neelam sees Lakshmi is coming and she says to her in this house people are praising you again. I know you are doing this so that you can stay in this house am I right or wrong. Lakshmi doesn't answer. Neelam asks why aren't you answering. Neelam sees Rishi is coming and says Oh I understand you want Rishi to come and see us and then Rishi will fight with me for you.Get one thing into your head do whatever you want I will throw you out of this house. Rishi comes and asks if everything is good.
Kiran asks Balwinder if he understood everything. Balwinder says he understood. Kiran goes away. Guddu tries to convince Balwinder to not listen to Kiran if he follows her plan then he will be in jail for life time. If he wants money then he will arrange it. Balwinder acts as he agrees to him.
Rishi asks Lakshmi if everything is alright. Lakshmi says there is no need to tell him everything right. Rishi agrees. Rishi asks Lakshmi to put the jug in Neelam's room. Neelam stops her and says let Mukesh put the jug in my room. Rishi takes the jug to the kitchen for Lakshmi. Neelam comments on it. Neelam says from when she came he changed a lot and a lot of people changed but I will not allow anything to change do you know why because for you I am a curse. I will not let you live in this house ever.
Episode ends
Also See: