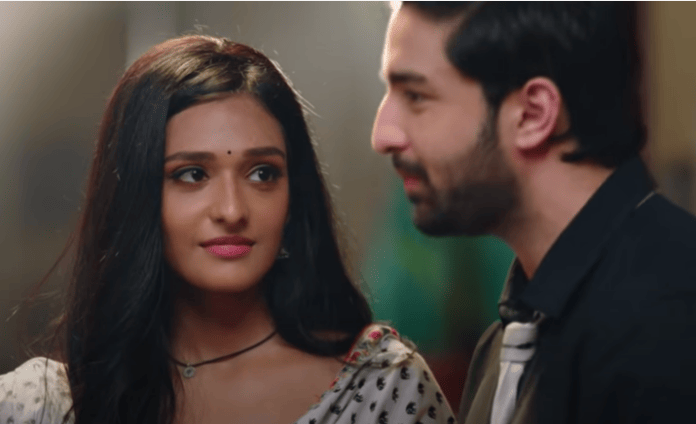 BhagyaLakshmi 4th February 2022 Written Update on TellyExpress.com
The episode starts with Malishka calling Rishi then she sees Kalyani and asks her about Lakshmi. Kalyani tells her Lakshmi took Rishi with her to remove the ring which struck on his finger. Malishka asks her about client's room and goes in that way. Rishi asks her to listen to him for 5m. Lakshmi asks what will happen in 5m. Rishi says I took you hereby making this ring struck to me. Lakshmi says you brought me here to tell that you're good right? I agree that you're good, are you happy. Rishi says you said it normally. Lakshmi says yes I can't tell it from my heart as you're bad and we are separated 3 hours back and now you came here with your fiancee and tell me that I'm misunderstanding you this time too, do you know how much I felt bad when Malishka showing me her engagement ring and necklace and sorry I forgot to congratulate you and she congratulates him in tears.
Rishi hugs her then Lakshmi pushes him and warns him not to touch her and she says I feel disgusted on myself for loving you and yesterday I felt you came to save me as you care for me and you're good but I misunderstood you and you came to support me for your family respect and today morning I felt I may hurt you saying more but now you came here with Malishka and meeting you is the worst part of my life. Rishi tells her he loves Malishka and her too and he asks h to understand her. Lakshmi says she understood him. Rishi says I never saw you in the wrong manner like Balwinder. Lakshmi says he crossed all his limits. Rishi asks her to not make him a villian and what mistake I did if I'm marrying Malishka? As you're moved on with your new life. Lakshmi says my new life is started with you and I'm working here as we became a burden on my Chachi and I'm working for my sister's hiding the pain and if you felt I moved on then Move on in your life too. Rishi tells her she is important to him and asks her to not misunderstand her. Lakshmi asks how can he marry Malishka if she matters to him and asks him to not treat her like a friend as she doesn't want to become his friend from wife and you moved on as I have to move on for my sister's and I don't have any reason to live except my sister's.
Karishma recalls Neelam's words and she calls Malishka and asks how can she be careless in marrying Rishi and asks if she knows what happened in Rishi's life. Malishka says I know about their divorce and so much happened in my life too as Pummy aunty created so much drama and Viraj broke up with me and now also I'm in tension. Karishma asks what happened. Malishka says Lakshmi is here as a salesgirl which is suffocating me. The call gets disconnected then she goes to check Rishi. Salesmen can't remove the ring from Rishi's finger without pain then Lakshmi tries to remove Rishi's ring painlessly by applying the ointment. Rishi thinks he gave so much pain to Lakshmi, wish he can set it. Malishka sees them. Rishi feels pain. Lakshmi asks if he is fine and holds his hand. Malishka goes to attend the Karishma call.
Karishma asks what happened to post her breakup with Viraj. Malishka tells Rishi proposed me for marriage and we came here for shopping where Lakshmi is sales girl and Rishi has not just care and respect for Lakshmi, but something else too. Karishma asks her to stop behaving jealously again. Malishka says Lakshmi become a curse to me and Rishi is with her. Karishma asks her to calm down. Malishka says Rishi is not noticing her in front of Lakshmi. Karishma asks her to do something so that Lakshmi's image is ruined and ruin her respect so much that she doesn't show her face to anyone, not even to Rishi and anyone in the society. Malishka asks what she has to do. Karishma asks her to get her arrested for the theft. Malishka agrees. Ayush waits for Rishi's call and he thinks Rishi doesn't know what he wants and wish you can see his heart Lakshmi bhabi then you can see you're in his heart. Lakshmi tries to remove ring with help of a chocolate wrapper, She asks him to move on and removes Rishi's ring painlessly then she leaves.
Episode ends.
Also Check: