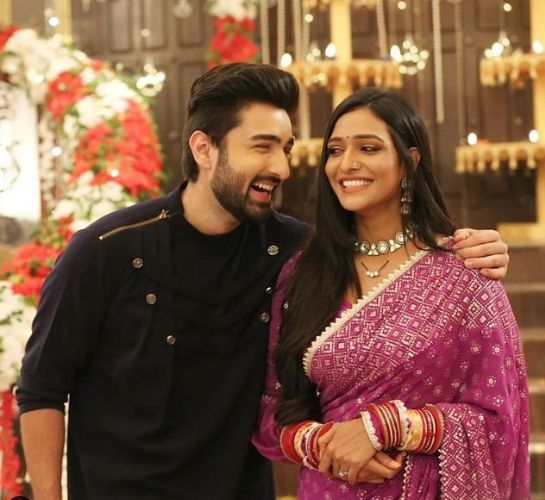 BhagyaLakshmi 5th August 2022 Written Update On TellyExpress.com
The episode starts with Dadi preparing for Pooja and Ayush tries to help her but Dadi slaps him. As Dadi thinks he is a hindrance. Rishi gives the jug to Mukesh and tells him to put the jug in Neelam's room. Dadi asks Lakshmi to tell her how to decorate. Lakshmi says she said she will do it herself right. Dadi says it is her husband's anniversary so she will help. Ayush and Rishi second her. Lakshmi and Rishi collide their head accidentally. Dadi tells them to collide their head so that they will not argue and they do it. Rishi and Lakshmi do it. Dadi asks Kiran where was she. Kiran says she was stuck in traffic. Ayush asks where is Shalu. Lakshmi says she is going to come but if she does it alone then it will be a lot of time so I will help.
Shlau and Neha come into the Oberoi house. Ayush slips and nearly falls on Shalu. But he handles himself. Shalu and Ayush argue seeing each other. Shalu and Neha take Dadi's blessings. Neha remembers what Rano said. When Shalu says to Bani it will be good if she came with her. Rano says it will be good if I came also. But I am sending Neha as a company but you want Bani to come so Rano asks Neha to stop and says Bani will go. Bani says she will stay here. Rano agrees. Shlau tries to convince Rano to send Bani but she is not convinced.
Lakshmi tells Shalu to first check the hall and then decide how to decorate it. Ayush comments on it. Shalu tells him to do his work. Neha says she will also help him. Rishi asks Ayush and Neha to help Shalu and if he needs he can use the servants. Ayush calls the servants and put them infront of Shalu. Shalu tells Ayush to follow her.
Malishka thinks of what happened. She thinks it will be good if she went to talk to Balwinder but the police are keeping an eye on me so it is good that mom went to talk to Balwinder. But she didn't tell me anything on the phone. I am stressed because of my mom. Kiran comes into the room and talks to Malishka and says Balwinder agrees. Kiran tells her to go out to spend time with Rishi. Malishka says she will not go to Rishi until Lakshmi's bhoot will not get out of his head. Kiran says then get prepared as tomorrow is the last say.
Shalu is telling the servants how to decorate. But she tells him she will do it herself as he is not doing it right. She gets on the ladder and Ayush helps her hold the ladder and teases that he is going to leave the ladder. Shalu tells him not to tease and he still does and Shalu holds Ayush hair for support and asks Ayush to say Sorry. Ayush says sorry.
Dadi praises Lakshmi. Dadi says to Lakshmi that we might not have celebrated this good even when he was alive. Lakshmi talks about how to live life. Lakshmi walks away. Rishi says he decided to give Lakshmi a gift. Dadi agrees. Maliahka thinks this will be last gift that he will give Lakshmi.
Ahana tries to talk to Karishma but she doesn't listen. Karishma puts some sarees on the bed and says if she wants to wear saree then wear one of these. Ahana says she wants to wear this saree like Lakshmi. Karishma throws the saree in anger and it falls on Lakshmi's face who is coming. Karishma tells to Ahana some people forget what is their status. We have a class and status don't ruin it by wearing these type of saree. Only people who don't have class wear thus type of saree
Episode ends
Also See: