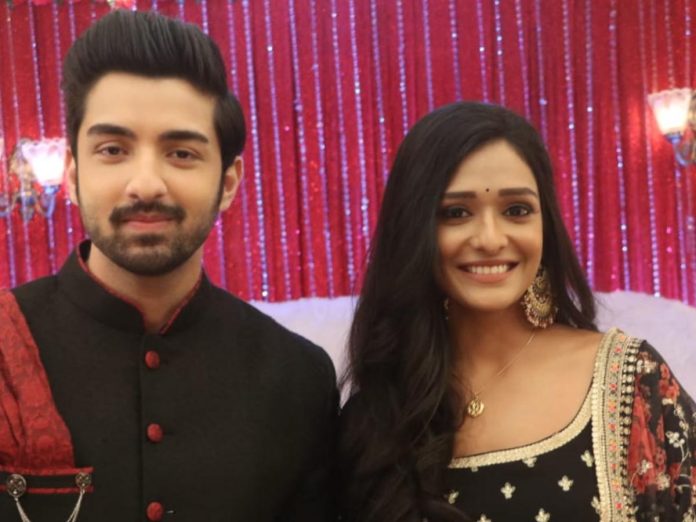 BhagyaLakshmi 6th August 2022 Written Update On TellyExpress.com
The episode starts with Karishma saying I may order you a designer saree if you want to wear a saree. Ahana takes a saree from Lakshmi and tells it suits her. Karishma says she will look like Lakshmi if she wears it. Ahana says it will be a proud moment for her if she becomes like Lakshmi. Lakshmi says you want to learn from me so learn that you can't behave with riders in this way and you have your way and become like you not like others. Ahana says she wants to learn simplicity from her. Karishma asks her to cut the crap and follow Malishka if you want as she has class and personality. Ayush comes there and says inner beauty is important not outer beauty.
Ayush asks Karishma to not ask Ahana to follow Malishka. She asks Ahana to follow her heart. Karishma asks why he is changed. She asks Lakshmi if she is happy to make her kids against her. She leaves. Lakshmi asks why they talked to Karishma in this way. Ahana asks her to leave Karishma. Lakshmi says today she doesn't want anyone to get hurt. Ahana asks how can she be so selfless. Ayush says Lakshmi is unique.
Karishma goes to Neelam and tells her that Ahana is thinking of Lakshmi as her role model. Neelam says Lakshmi is doing her magic on everyone. Neelam tells that they have to do something else Lakshmi will divide the family members. Karishma asks Neelam to show the real place of Lakshmi in this house before it goes out of our hands and ends her chapter. Dadi wishes happy birthday to her husband. Lakshmi smiles hearing it. She wishes him a happy birthday. Dadi blesses her. She says Dadu will be happy if he sees you. Lakshmi says Dada Ji is alive in their hearts. Dadi asks if everything is ready or if she needs her help. Lakshmi tells her everything is ready.
Karishma shows the prasad. Neelam says it's not good to add garlic in all prasad so divide prasad which we use for Bauji so pooja doesn't get spoiled. Karishma praises her idea. Neelam asks her to clean garlic with salt and vinegar so it's smell will go. Karishma cleans it. They take some halwa and in the remaining one, they add garlic. Neelam asks Karishma to be careful while taking prasad and once everyone notices Garlic then we can mock her. Ahana comes there and asks what are they doing. They tell they came to check arrangements. Ahana says everything is done by bhabhi. She shows them halwa prepared by Lakshmi.
Malishka goes to Rishi's room and asks how she is looking. Rishi says she is looking good. He opens the box. Malishka gets happy to see Rishi brought a necklace and thinks finally he is seeing my love. He tries the necklace on her. Lakshmi comes there and sees them. Karishma says it's fine and takes Ahana with them. Malishka feels happy thinking she won in front of Lakshmi. Lakshmi turns to go. He takes back the necklace and tells Lakshmi that this necklace is for her and asks her to tell how is it. Malishka gets shocked. Lakshmi looks on. Rishi says she can smile in place of thank you. She smiles and tells him that the necklace is good.
Malishka leaves. Lakshmi asks why he trying on Malishka if he brought it for her. Rishi says he tried on her when she is not here. Lakshmi says you broke the heart by showing her hope. Rishi says it's not his mistake and asks how is it. Lakshmi says she likes whatever he brings with love. Rishi says you're demanding gifts in this way like a typical wife. Lakshmi says she is his wife. Rishi smiles. Malishka recalls Rishi's behaviour. She collides with Sonia. She raises hand at her. Ayush enters Rishi room. He feels bad for spoiling their moment.
Lakshmi calls him. Rishi scolds him for coming in wrong time. He asks why he came. Ayush asks them to come downstairs if they are ready. He asks them to continue their romantic moment. He leaves. Rishi asks no what we gave to do. Lakshmi asks what are you talking about. Rishi says I am saying about what Ayush said. Lakshmi asks him the same. Rishi says as you have wore clothes let's go downstairs. Rishi asks how did you like the gift. Rishi says let's go. Lakshmi agrees.
Episode ends.
Also See: