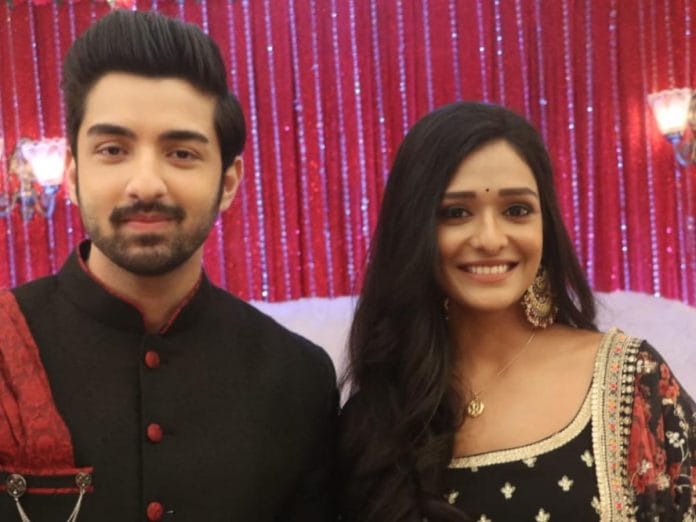 BhagyaLakshmi 6th January 2023 Written Update On TellyExpress.com
The episode starts with Neelam apologising to Malishka and says something like this will never happen again. Neelam asks Malishka to give her word that she will not do something like this again. Neelam says to Malishka that she is like her daughter and says Rishi made a mistake and he is going to be punished for it. Malishka asks Lakshmi why is she here? Sonal says to Malishka that she brought Lakshmi here. Neelam says to Rishi that he needs to accept the punishment just like he admitted his mistake and says if he doesn't accept his mistake then there is no need for him to call her mom again. Neelam says to Lakshmi that she once again proved how unlucky she is and says from when Lakshmi entered into Rishi's life he has only suffered and says after she came today Rishi is suffering again.
Neelam recalls what happened while going in the car. Lakshmi feels guilty as because of her everyone knows what happened and thinks to herself that she only wants Rishi to marry Malishka.
Neelam returns to the Oberoi mansion. Dadi sees Neelam crying and asks what happened? Virendra and everyone come one after another and sees Neelam crying? Virendra asks Neelam what happened? Everyone asks Neelam why is she crying? Devika brings water to Neelam and Virendra gives it to Neelam. Virendra asks what happened? Dadi says to Neelam that she is about to say something about Rishi. Neelam says to everyone that Rishi stained their family's reputation. Virendra says she might be mistaken. Neelam says she wishes she was mistaken but says Rishi destroyed their reputation. Karishma asks what did Rishi do? Neelam tells everyone what did Rishi do with Malishka.
Rishi apologises to Malishka in her heart. And thinks to himself he just wanted to be with Lakshmi but now she hates him.
Dadi says to Neelam she might be mistaken. Ayush still couldn't believe what he heard and asks Neelam how is it possible. Neelam says to Ayush that she also doesn't want to believe what she heard but Rishi admitted himself that he crossed his limits with Malishka. Virendra gets angry with Rishi hearing this and asks Ayush to call Rishi. Karishma tries to reason with Virendra but Virendra doesn't listen to her and asks Ayush to call Virendra. Ayush tries to cool down Virendra. But Virendra asks Ayush to not take Rishi's side.
Rishi feels guilty and apologises to Neelam in his heart. Dadi says to Neelam that this should have happened as they threw Neelam out of this house and says all this is happening because she is hurt. Neelam asks Dadi not to take Lakshmi's name and says Neelam knew about this from Lakshmi. Neelam says to Dadi and Virendra that Lakshmi came to Malishka's house.
Kiran says to Malishka that there is her fault in it as much as Rishi's. Kiran asks Malishka if Rishi forced her. Malishka says no and says she loves Rishi that's why she did it. Sonal praises Malishka in her heart for her acting.
Dadi says that's why Lakshmi gave divorced Rishi and didn't tell anyone the reason for the divorce. Neelam says Lakshmi did all this to prove herself great once again. Virendra asks Neelam not to bring Lakshmi in between and says Rishi broke Lakshmi and Malishka's trust and says Lakshmi didn't do anything.
Rishi feels guilty thinking of what happened. Kiran reasons with Malishka, Sonal advises Kiran to marry Rishi with Malishka before anyone knows. Sonal asks Kiran what is she thinking about? Kiran says Rishi doesn't want to marry Malishka even after Rishi did all this and thinks if Malishka married Rishi will she be happy. Malishka gives an ultimatum to Kiran saying either she marries her to Rishi and kills her with her own hands as she can't live without Rishi. Kiran says she only wants her happiness.
Shalu worries about Lakshmi as Lakshmi didn't return till now. Shalu sees Lakshmi and asks her where did she go? Lakshmi doesn't say anything and simply hugs Shalu.
Episode ends.
Also See: