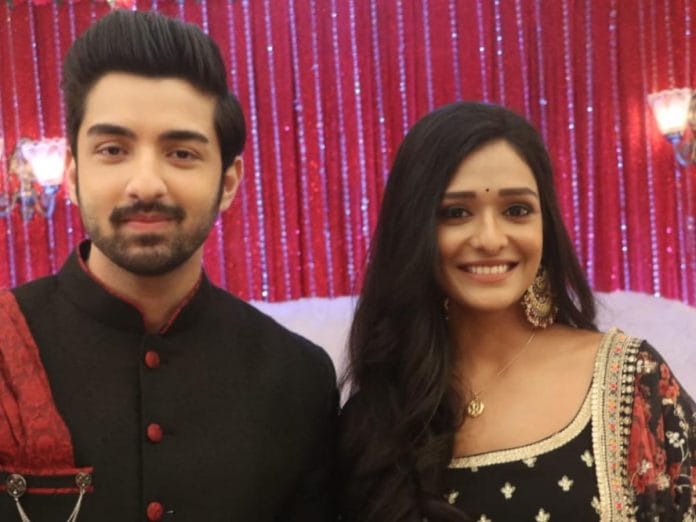 BhagyaLakshmi 7th July 2022 Written Update On TellyExpress.com
The episode starts with Rishi thinking he should clear Lakshmi's name when she leaves the house atleast she will be not stained. To do this I have to catch Balwindar. Rishi acts as he is taking selfies and acts as his phone's battery is down and asks Lakshmi's phone to take selfies. Rishi says something is not right and sets her hair to take selfies with her. But he says again something is not right and ask her to check once in the mirror. Lakshmi goes to check in bathroom mirror. Rishi thinks this is the time and tries to message Balwindar but he later thinks it will be a problem if Balwindar called or messaged her.
So he transfers Balwindar's number to his phone. Lakshmi asks what is he doing with her phone. Rishi says he transferred the photos. Lakshmi says she is now ready to take selfies. Rishi acts like he didn't say anything like that. Rishi says he doesn't even like taking photos. Rishi gives Lakshmi's phone to her and leaves. Rishi and Lakshmi see each other in the night if the other person is sleeping or not.
Rishi comes and asks Lakshmi what is there for breakfast. Rishi asks where is everyone. Lakshmi says everyone asked breakfast to thier rooms. Ayush I am there. We will eat breakfast. Rishi says he will go call mom. Ayush says there is no use as you know what she will say so it is better to eat breakfast and then talk to them. Rishi agrees and sits down to eat breakfast. Ayush praises how delicious the breakfast is. Rishi also tastes it and says it is tasty. Balwindar messages Rishi. Rishi says a proverb.
Lakshmi asks what is he talking about. Rishi and Ayush make up a story to cover it. Lakshmi asks them to stop talking and eat. Lakshmi sees her phone is silent and she has missed calls from Pandit ji. Lakshmi calls Pandit ji. Pandit ji says Badhrinad Pandit told him to tell her that today and tomorrow Rishi's fortune is doubtful there is no danger of Markesh dosh.
Rishi and Ayush talk about Balwinder. Rishi says Balwindar messaged him and he wants to meet him today at C4 Cafe. Rishi says they have to handle Balwinder carefully. He asks him to not inform Lakshmi about it. Ayush says he won't even let pillar know it. Ahana comes there and asks if they are talking about her. Ayush says they are talking about Lakshmi bhabhi. Ahana asks which matter. Rishi gets angry.
Ayush says Rishi is praising the breakfast prepared by Lakshmi but he doesn't want her to know it. Ahana says Lakshmi bhabhi deserves the praises and she supported me so much. They ask why she didn't talk to them. Ahana says she feels more comfortable with Lakshmi as she is so mature. They ask if they are not mature. Ahana asks what they did if she told them about her pregnancy.
They say they may fight with that idiot. Ahana says Lakshmi is calm and positive, unlike you guys. Ayush and Rishi say Lakshmi understands and handles the situation better. Ahana says Lakshmi bore so much for me and Balwinder accused her but she stayed calm. Rishi leaves. Ahana asks if she said anything wrong. Ayush thinks he wants to find who supported Balwinder. He tells Ahana that there is nothing and asks her to be careful and leaves. Ahana thinks they are tensed and hiding something from me. Balwinder talks to Lakshmi's photo on his phone. That time he receives a message from Lakshmi's phone to meet her.
Ayush messages her that he will come. Rishi notices the message and thinks he won't leave Balwinder. Balwindar talks to himself and says the hero will get heroine always and I am the hero here. If Rishi even sees you then I will kill him. Lakshmi decides to prepare favorite dishes for everyone. Ahana asks what's she doing. Lakshmi says she is preparing favourite dishes for everyone. Ahana says you're so good. She asks if something has happened? Lakshmi looks on.
Episode ends.
Also See: