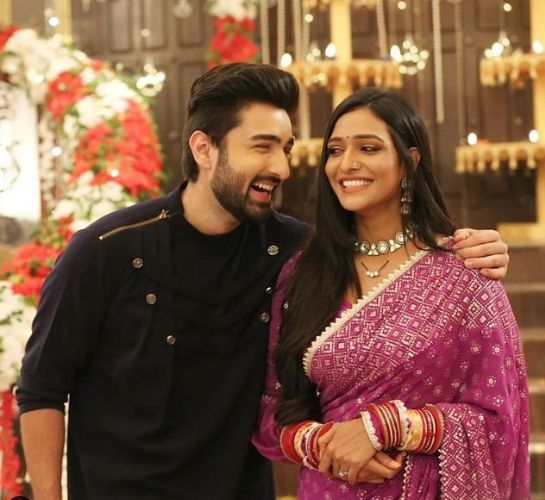 BhagyaLakshmi 8th June 2022 Written Update On TellyExpress.com
The episode starts with Neelam hugging Karishma saying congratulations. Karishma says Lakshmi wants to humiliate us and asks her to go to the kitchen. After Neelam, Virendra and Rishi also go to the kitchen. Lakshmi says to Neelam the bags are missing. Neelam asks we asked you if you could do this or not and you said you could. Lakshmi says sorry. Neelam blames Lakshmi and says she is doing this intentionally. Neelam sprains her ankle. Virendra and Rishi take her to her room. Malishka asks Lakshmi why does she hurt Neelam aunty also and says she will tally everything with her.
Neelam asks Virendra and Rishi to go attend the guests. Shiv comes and checks the sprain and says she needs complete bed rest. Shiv gives the prescription to them and leaves. Neelam says to Virendra that they have to take care of everything. Neelam says she is only worried about Malishka and says to Virendra to behave like her.
Ahana comes into the kitchen and says to Lakshmi that she likes Gautam and Gautam likes her so the match is set. Lakshmi hugs Ahana and says congrats. Ayush sees this and says if it is over and says Lakshmi wants to destroy the match. Ahana asks why. Ayush says to ask her. Lakshmi and Aysuh argue. Malishka hears what they say and think to herself I will humiliate you and I will come up with a solution then everyone will praise me. Malishka says she already said Shankar to prepare continental food and he is bringing it here. Ayush says thanks to Malishka.
Lakshmi says but already the food is prepared so we can take it and put it there and the continental food will come soon. Ayush agrees with the idea. They take food. Malishka thinks they won't love Indian food. Sudha sees the food and says I told you that they don't have this food. Ayush says Malishka ordered food and it's on the way and until then you can taste food prepared by Lakshmi. Gautham says they are not sure about this food. Karishma takes Lakshmi aside and scolds her. Virendra also blames Lakshmi for hiding the bags to get them insulted. Malishka receives a call that food has arrived. She goes to collect the food. Gautham tastes sweet and tells it's delicious. He asks his parents to taste it. Gujral's taste the food and they end up loving it. Mr. Gujral asks Ahana to learn from Lakshmi. Ahana agrees.
Malishka brings continental food. Dadi asks her to send back the food as they are loving to eat Indian food and they want Ahana to make it for them post marriage. Malishka gets shocked. Mr. Gujral says they can fix the engagement after 2 days. Ayush whistles happily. Lakshmi sees Rishi happily. Rishi turns his face. Malishka throws continental food in the sink and is annoyed over her ruined plan. Kiran calls Malishka and asks if Gujral's asks for recipes.
Malishka says they are asking Lakshmi as they loved her Indian food and praising her. She disconnects the call. Lakshmi asks why she is wasting good without knowing the value. She picks the food from the sink saying she will feed birds or animals and says she will not get the food wasted in her house. Malishka says your house. Lakshmi says yes, my house and my husband. She says they may like this food also. Malishka warns her to never compare them. Lakshmi asks why she ordered this food? Malishka looks on.
Episode ends.
Also See: