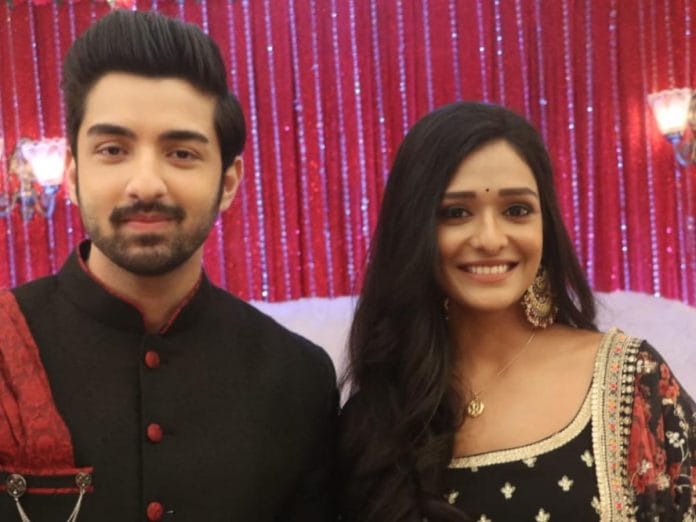 BhagyaLakshmi 9th July 2022 Written Update On TellyExpress.com
The episode starts with Neelam hearing what Rishi is talking about on the phone. Ayush says if Neelam aunty knows what you are doing for Lakshmi then a volcano will blast in the house. Neelam thinks about what is he doing for Lakshmi. Lakshmi worries about where Rishi has gone and she remembers what Pandit said and she goes to find him.
Ayush says see now there is no signal. Rishi says there is no problem we alreday told mom that we will be late. Ayush says yes but without a signal how can we find Balwindar. Rishi says there are no more three or four we will find him. Neelam tries to call him. But the call doesn't connect.
Rishi drives the car pretty fast and Ayush asks him to slow down but he doesn't. Meanwhile, Balwindar stops at the flower shop to take roses with shopkeeper's recommendations he takes a bouquet and gives only rs 10 and threatens him. When he smells the roses Rishi's car goes fast and water on the road spills on his face as the car goes by. Balwindar shouts at them.
Rishi stops the car as they reach their destination and gets down and gives Ayush the clothes and wig and asks him to wear it and act as Lakshmi. Ayush doesn't agree at first but Rishi convinces him.
Balwindar stops at a traffic point and Lakshmi is in the same traffic joint in an auto. Lakshmi tries to call Rishi but it doesn't go. When the traffic signal shows green they go on three same side. Balwindar doesn't see Lakshmi.
Shalu is shown to be waiting. Lakshmi gets down from the auto. Shalu says she saw Rishi's car going that side pretty fast. Shalu says something is going on. Lakshmi agrees with it and says from morning Rishi is thinking of something. Lakshmi says Shalu let's go. Shalu asks if there is a big problem. Lakshmi says then we need to go there as we cannot leave Rishi alone. Shalu and Lakshmi get in the auto.
Malishka goes to Neelam's room to tell her the truth and ask for her forgiveness. Malishka has an inner monologue while looking at herself in the mirror. Malishka in the mirror says so you are going to tell the truth. Malishka says yes I will tell them Balwindar might some day reveal the truth to everyone then Neelam aunty will never forgive me. She will throw me out of the house.
Malishka in the mirror points out if Balwindar didn't say anything then she will hit her own leg with a stick. By telling the truth to everyone. Anyway by telling the truth do you think Neelam is going to forgive you for what you did. Malishka says then what other choice do I have. Malishka talks to herself she will apologize to Neelam and ask her for forgiveness. Neelam hears and asks about it. Malishka says she made a big mistake.
In the auto, Lakshmi prays to God for Rishi's safety. Shalu asks her to not worry as we will find Jiju soon and once everything is get settled I will visit Gurudwara. Ayush gets irritated in girl's costumes. Rishi calls him and asks if he is scared of Balwinder. Ayush says no and I'm feeling bad in these costumes. Rishi tells him Balwinder came and asks him to be careful to implement their plan.
Balwinder asks Guddu to play the song. Balwinder dances for it. He sees Rishi's car and thinks about what's Lakshmi doing in Rishi's car. He thinks he has to be careful. Balwinder asks Lakshmi to come out. Ayush turns and tells him hi. Rishi beats Balwinder recalling how he hurt Lakshmi with his accusations. Guddu hits Rishi will rod. Ayush holds him. That time Balwinder ties them and says these are his childhood tricks.
Malishka says I want your support and forgiveness. Neelam asks what she did. Guddu asks Balwinder to control them. Balwinder says I tied them what to do. Rishi tries to open the door. Balwinder says he locked it with a childlock and warns them to sit silently. Neelam asks if she did any mistake. Malishka says she didn't but she did a mistake by making Rishi get married to Lakshmi. Neelam asks her to not torture herself with it. She asks what she did to seek her forgiveness? Hope you didn't do mistake any mistake to make yourself low infront of Lakshmi.
Malishka says I made mistake by making you stressed with my problems and from here onwards I won't stress you. Neelam says you're my choice so don't thinks in this way. She hugs her. Malishka's reflection signs her she did good. Neelam asks control yourself and doesn't do mistakes in your anger which will make you low in front of Lakshmi and I'm with you. Auto is stopped with a jerk because of the Balwinder car. Lakshmi sees tied up Rishi and Ayush in it.
Episode ends.
Also See: