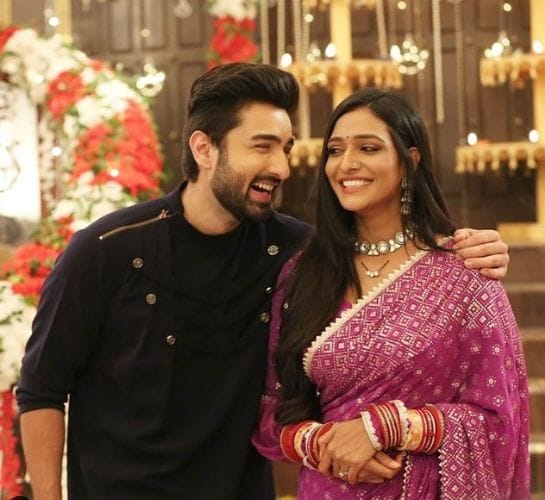 BhagyaLakshmi 9th November 2022 Written Update On TellyExpress.com
The episode starts with Rishi thinking Malishka is turning strange and no one is understanding Lakshmi. He sees Lakshmi in the mandir. He goes to Lakshmi and asks what's she doing in the mandir. She tells him she is taking Kumkum from Devi maa feet. She asks if he can fill her maang. Rishi agrees and puts Sindhur on Lakshmi's hair partition. Lakshmi feels happy. Rishi asks Lakshmi if there is any fast husband can do for his wife. Lakshmi says respecting the wife and making her not feel alone in the sasural and keeping the wife happy is the biggest Vrath a husband does. Rishi asks if he does it. Lakshmi says to him that he does it every day and that's why he is Lakshmi Bhagya. Rishi says you're Rishi's bhagya as you saved me. Lakshmi smiles and looks tired. Rishi asks her to break her fast. Lakshmi says she can't break her fast until she sees the moon and him. She says him to go and tells him that she has to place ghee in Diya. Rishi leaves.
Rishi is about to go upstairs. Bani collides with Rishi. She apologizes to him. He asks where is she going in a rush. She tells him she is going to meet Lakshmi. He tells her Lakshmi is in the mandir. Bani goes to the mandir and reveals to Lakshmi that Shalu and Ayush are boyfriend and girlfriend. Rishi overhears it. Rishi and Lakshmi get shocked. Lakshmi asks if it's true. The servant informs Rishi that Dadi is calling him. Rishi calls Lakshmi and tells them that they can talk later after finishing the puja. Bani regrets forgetting Rishi is hear and tells Lakshmi that Rishi heard their conversation.
On the terrace, everyone eagerly waits for the moon to come out from the clouds. Dadi sees Lakshmi coming and says the moon is here. Everyone sees Lakshmi and Rishi coming to the terrace. Dadi tells Virendra that they need to entertain everyone. Rishi asks how. Dadi says she arraigned for it and calls Dhol people. Dhol people arrive there. Balwinder is one of them. Ayush suspects seeing Balwinder but Karishma takes Ayush with her for a dance. Kiran recognizes disguised Balwinder who's starting at Lakshmi. Ayush takes Rishi with him for a dance. She acts like dancing and confronts Balwinder about why he came here. Balwinder tells her he came for his work and he asks her to maintain distance from him and tells her that she needs to help him. Kiran leaves.
Rishi dances with Ayush and Dadi. Lakshmi and others enjoy their performance. The moon comes out. Dadi says the moon appears. Ladies perform puja to the moon. Kiran scolds Balwinder for coming to get caught when her daughter is struggling to save him. Balwinder says he came for some work and asks her to help him. Kiran asks what work. He explains his wish to her. Kiran says it's risky. Balwinder says it's not risky. Ayush comes there talking on call. Kiran says do whatever you want but make sure my daughter's name won't come out. He agrees. Ayush doubts seeing Kiran.
Lakshmi sees Rishi through a sieve. Other ladies also see their husbands. Malishka gets angry. Ayush cones towards Kiran. Kiran manages the situation by acting like talking on call. She asks Ayush if he needs something. Ayush says nothing and leaves. Balwinder comes out from his hiding spot. He admires Lakshmi and decides to do his work. Dhol people see Balwinder and discuss he is not for their team. Lakshmi asks Rishi to fill her mang again. He does it and blesses Lakshmi. Dida thanks God for fulfilling Lakshmi's Vrath. Rishi thanks Lakshmi for keeping fast for him. Lakshmi says because of the fast I'm going to get food from your hand. Rishi says he will feed her daily if she wants and tells her he can do anything. Lakshmi says she can do anything for him. Rishi is about break Lakshmi's fast by making her drink water. That time Balwinder throws a smoke bomb. When everyone gets distracted because of the smoke Balwinder kidnaps Lakshmi. Once the smoke clears Rishi notices Lakshmi is missing. Rishi from upstairs notices Balwider's friend's car. He goes downstairs telling he will bring Lakshmi. Rishi goes downstairs and notices the car is left. He thinks about how to search for Lakshmi. He decides to not give up until he finds Lakshmi.
Episode ends.
Also See: