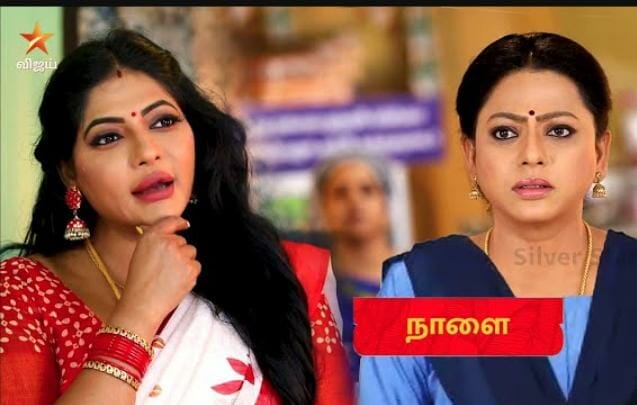 Bhagyalakshmi Upcoming Story, Spoilers, Latest Gossip, Future Story, Latest News and Upcoming Twist, on TellyExpress.com
Vijay Tv's popular show Baakiyalakshmi never fails to entertain the audience with its engaging yet progressive storyline. Now the serial focuses on Gopi demanding money from Bakkiya. Bakkiya agrees to settle the money within six months. Gopi is in trouble.
In the previous episode, Radhika argued with Gopinath when his family refused to accept Radhika as a daughter-in-law. Gopi found himself in trouble. Eshwari and Nila bonding. Saran spent quality time with Inya's family. Radhika inspected the canteen.
In today's episode, Ramamoorthy and Eshwari spend quality time with Nila. At that moment, Amirtha's mother visits Eshwari's home to meet Nila and Amirthra. Nila hugs Amirtha's mother. Amirtha's mother introduces Eshwari and Ramamoorthy. Ramamoorthy calls Amirtha and the family to meet Amirtha's mother. She is happy to see Amirthra. She thanks Ezhil for accepting Amirtha and Nila.
Ezhil comforts Amirthra's mother. Amirthra's mother requests Ramamoorthy and Eshwari to get up. She thanks them for accepting Amirtha. She cries before them. Later, she handovers Amirtha's jewels to Ezhil. Ezhil refuses to accept it. Bakkiya refuses to get it. Finally, she handovers Amirthra's jewel to Eshwari.
Eshwari comforts Amithra's mother. Eshwari's acceptance makes Amirthra cry. Purposefully, Radhika visits Bakkiya's canteen. She finds a fault in Bakkiya's work. But she fails. She insists Bakkiya and her crew wear a uniform. Bakkiya feels uneasy when Radhika instructs her to wear a salwar. The family convinces Bakkiya.
Will Bakkiya wear a salwar? Will Eshwari avoid Amirtha? Will Eshwari allow Bakkiya to wear a salwar? How will Gopi convince Radhika?
Will Bakkiya pay off Gopi's dues? Will Bakkiya shift to a rental home?
All these questions will be answered in the upcoming episodes stay tuned for more details.