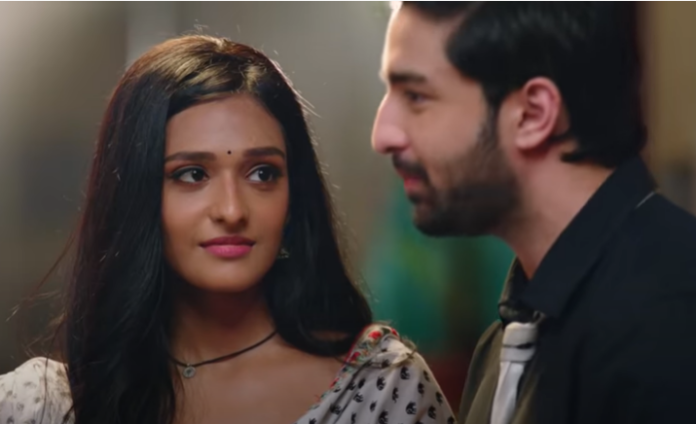 Scene begins in Rishi wakes up feeling suffocated due to smoke. He rushed out to check whom burnt the house? Ayush stops him and says it's all mom's arrangements nothing to worry. Rishi gets surprised to see hawan there. Neelam and Lakshmi doing Pooja there. Rishi sigh seeing it. Ayush tells him he was about to call fire service but his dad stopped him
Rishi asks him what's this all? They ruined his sleep in morning itself. Ayush says to him leave that matter how did he enjoyed in yesterday? Rishi glares at him. He asks him Is he cheap to touch a girl whom he gonna divorce in few months? Ayush thinks that he is repeating the same things.
Neelam notices Rishi in upstairs and glares at him for not taking bath yet. He rushes inside to fresh up. After few minutes he comes down all ready. Neelam asks him ti take Lakshmi to temple and demands him to complete the rituals priest mentioning to him.. he nods uninterested. Neelam asks Ayush to accompany them reasoning she don't trust Rishi at all. It's important to finish these rituals. Both leaves from there in car. Ayush follows them behind.
Their car stopped in traffic. One kid comes there to beg money to them. Rishi about to donate money to him but Lakshmi stops him. She advise him to stop encouraging such act in this young age. He wanna study well in this time. Instead of going to school he is begging. Rishi tells her may his circumstances made him do like this. Lakshmi asks him why didn't he went to school? He tells her that his mom sick so he can't able to go. Lakshmi gives chocolate to him and asks him to say the truth. He accepts the chocolate and says he saw many people doing like this so he following the same to get money. Rishi gets surprised to hear that answer. Lakshmi asks him what will he do with this money? He says that he will buy chocolate. Rishi sends him from there. One girl comes there selling flowers.
Rishi about to send that girl from there Lakshmi stops him and request him ti buy flowers from her. He asks her in questioning way. She says to him she is selling things to lead her family. It seems her family really needs help. Rishi buys whole flowers from her and give it to Lakshmi. Lakshmi asks him what will she do with this flowers? He asks her to do whatever she want? Lakshmi stops the girl and asks her to give these flowers to temple behalf of her. She nods and leaves. Rishi asks her doesn't they are on the way to temple? Why did she gave that flowers to that girl. Lakshmi says to him may she will resell those flowers if she really need money. If she has good heart then she will give it to temple. Rishi asks her then why don't she say it on her face? If she ask her to take that flowers back it may affect her pride that's why. Rishi thinks interesting.
Screen froze
Also See: