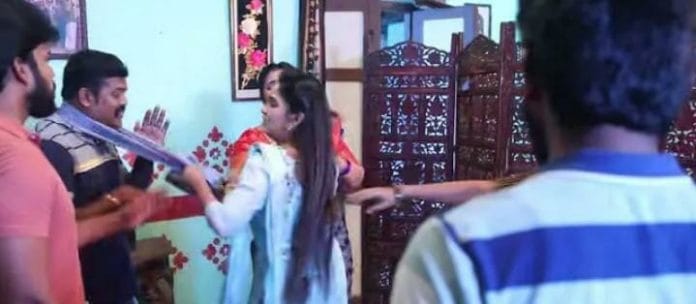 Bhagyalakshmi Upcoming Story, Spoilers, Latest Gossip, Future Story, Latest News and Upcoming Twist, on TellyExpress.com
Vijay Tv's popular show Baakiyalakshmi never fails to entertain the audience with its engaging yet progressive storyline. Now the serial focuses on Gopi's decision to sell his home. To help Bakkiya, Ramamoorthy decides to sell his property. Will Ezhil win the challenge?
In the previous episode, Bakkiya told Eshwari not to force Ezhil to marry Vashini. Ramamoorthy lashed out at Gopi for ruining Bakkiya's happy life. Ramamoorthy sudden decision to help Bakkiya.Eshwari advised Ramamoorthy not to sell their property. Ezhil approached the producer to sell his script to get money.
In today's episode, Ramamoorthy and Bakkiya reach their native place. Bakkiya and Ramamoorthy meet the party to sell their home. Eshwari and Cheiyan meet Varshini's father. Cheriyan and Eshwari plan to convince Ezhil.
They talk to Ezhil about his wedding. Ezhil's stern decision makes Eshwari and Cheriyan tense. Bakkiya converses with Ezhil. On the other hand, to learn Ramamoorthy's move. He asks Inya to converse with Ramamoorthy. He learns Ramamoorthy's move from his call. Eshwari and Cheiyan convince Varshini's father.
Will Gopi ruin Ramamoorthy's move? Will Ramamoorthy sell his property? will Bakkiya come home with home? How will Ezhil arrange money? Will Cheiyan help Ezhil? Will Ezhil win the challenge? How will Ezhil arrange money?
How will Eshwari convince Ezhil to the wedding? Will Ezhil marry Vashinvani?
Will Eshwari accept Amithra?
All these questions will be answered in the upcoming episodes. Stay tuned for more details.