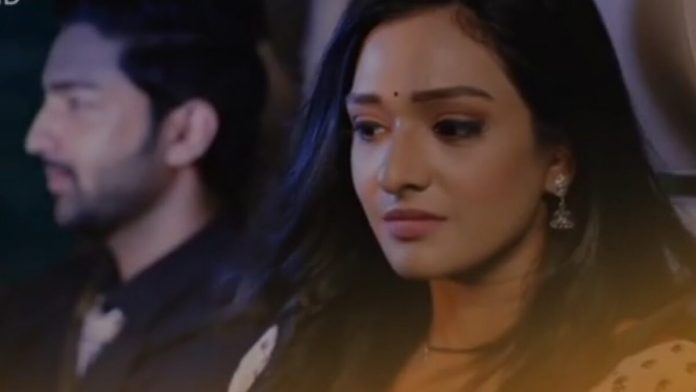 Scene begins in hospital, Lakshmi agrees to take class to Soniya. Neelam assures her that they will pay for her she can pay little amount of her salary to them. Lakshmi says that they can cut their amount from their salary. Neelam adds that nothing to worry she will help her to get a better job then this. She shares to her that she couldn't concentrate on Soniya because she was worried about Rishi always. Lakshmi stares Rishi and asks her that happened to him? Neelam hesitates to reveal the reason to her. Lakshmi understands it and apologized to her for asking personal details to her. Neelam caresses her hair and mentions as smart enough to understand what's running in someone mind. Neelam strictly add one more condition to her that she might stay in her out house. Lakshmi asks her why? Neelam smiles to her and shares to her that she wanna be with Soniya at least 10 hours to teach her how to behave in front of relatives. She wanna learn out tradition and culture too. She hope only Lakshmi can able to teach her this. Apart from studies this is way more important to her. She is ruining their family name so Lakshmi wanna keep an eye on her always.
Lakshmi says that she may feel that they are trying to snatch her freedom from her by this. Neelam says to her she has no option then in her hand. Lakshmi holds her hand and assures her that she will take care of Soniya. She will definitely change her attitude after she become her friend. Neelam thank her whole heart. Lakshmi worries about her grandpa. Neelam assures her that their doctors will take a good care of her grandpa. She can come to meet him at any time there is no restriction for her. lakshmi thank her. Rishi comes there Neelam introduce Lakshmi as new teacher to Soniya giving surprise to him. She adds that hereafter she will stay in outhouse. Rishi stares his mom in surprise way.
Later Lakshmi reaches to Neelam's house. Neelam shares to all about her new decision. Soniya really thankful to Lakshmi for save her life but she don't like to stay in home to continue her studies. Lakshmi assured to Soniya that she will make sure that she will return to her college in few days if she listen to her. Soniya nods to her in excitement. She stares Neelam in questioning way? Neelam to nods with her. Soniya thank her and hugs Lakshmi in excitement and makes her rotate. Lakshmi lost her balance and fall on Rishi.
Screen froze
Also See: