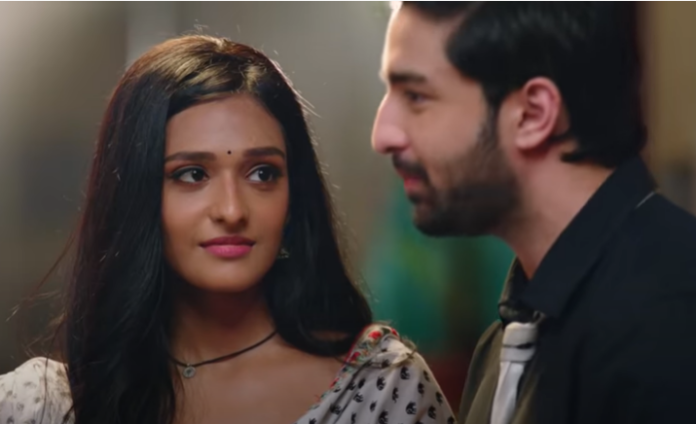 Scene begins in Lakshmi falls on Rishi. He holds her on time both falls into their eyelock. Neelam brings them back to reality she scolds Soniya for behaving like this. Lakshmi stops Neelam from scolding her and forgive her. She thank Rishi for saving her. Neelam asks Rishi to show her room to him. Ayush comes there and greets Lakshmi and learns from them about Neelam's plan to change Soniya. He appreciated her idea and asks Rishi to show her room. He signals him that he can't but Ayush smiles faintly to him in teasing way. Rishi has no option then take Lakshmi to her new room. Lakshmi thank him and stops him from taking her luggage reasoning she will manage it. Next day Neelam wakes up hearing beautiful bajan. Rishi's sleep too get disturbed hearing that voice. He usually get angry if someone disturb his sleep but this melodious voice makes him feel happy for unknown reason. He gets up and follows the song. Neelam and rest of the family member gets shocked to see Soniya singing song. They can't able to believe they own eyes just then Lakshmi comes out of pooja room taking arathi while singing. They understand that Sonia is just dubbing to her song.
Lakshmi teaches Soniya how to take arathi and do pooja. She is also learning from her without complaining. Neelam feels happy to see the change in her daughter. She caresses Lakshmi's head happily for her help. She appreciated her voice and thank her for finishing morning Pooja for her.
Lakshmi apologize to her for using pooja room without her permission. Neelam assures to her that she won't stop her from entering into pooja room. Lakshmi noticed Rishi there he appreciates her song. Neelam couldn't believe her own eyes that her son woke up early. She gives hatsoff to Lakshmi for helping her to teach disciple to both of her kids. Lakshmi shares her in confusion. Neelam tells her that it's the first time Rishi got up early from bed. Lakshmi smiles seeing him he feels embarrassed and leaves from there.
Later Lakshmi reaches Soniya how to cook and serves the food to all. Neelam and Rishi praises Soniya for cooking tasty food for them. She informs to them that Lakshmi cooked for all. She just helped her to cut the vegetables. Neelam says to Lakshmi that she has no words to praise her at all because she is impressing her day by day with her behaviors. Lakshmi serves food to Rishi. He thank him for that delicious food. She smiles to him. Later Rishi gets amazed to see the teaching method of Lakshmi. He shares to Ayush that this girl is multi-talented one.
Sceen froze
Also See: