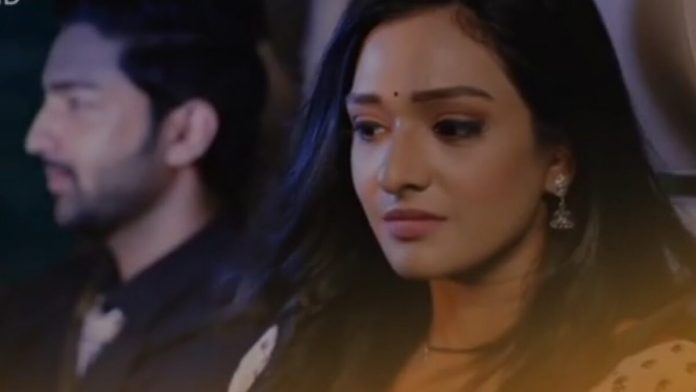 Scene begins with Rishi shares to Ayush that Lakshmi is really multi talented person it seems. Hey teaching style is also pretty good. Ayush asks him if she is really good why don't he get married to her? Rishi glares him and leaves from there. Ayush follows him behind there. Lakshmi shares that side but she couldn't find anyone there. Later Ayush tries to console him but he was pretty angry on him. Rishi asks him doesn't he know he was searching for Laddo to marry her? How will he think about another girl? Ayush apologize to him and says that he was kidding. Rishi gets emotional and tell him he is really wanna meet her at least once. He is scared to lost her in his life. Why he is not blessed to see her yet? Ayush assures to him that he will definitely meet her. He adds that if his love is true it will definitely bring them together. Rishi says that Lakshmi is a good girl but he wanna see her getting married to a good person whom deserves her. Ayush asks him why did Lakshmi dropped out from college? Why don't he help her to pursue her dream? Rishi says it's an good question but they wanna find out the reason behind it first. Then we can help her to achieve it.
He might thank her for changing Sonia and helping her to study well. Ayush alerts him tomorrow is Friday. Rishi facepalm himself hearing it. He says to him that he has no idea what stored for him tomorrow he might take Neelam to temple. If she didn't meet him this time she would feel helpless. Ayush asks him Is he believing in it all? Rishi tells him not really but mom believing it. Later Lakshmi is decorating the pooja hall. Neelam comes there and invited Lakshmi to accompany her to temple tomorrow morning. Lakshmi nods with her.
Next day Neelam visits temple and meet the priest whom she waits to meet long. She gives Rishi's horoscope to him. He checks it and tells her he was in danger. Neelam pleads with him to save her son. He says something to her in mute. Dadhi holds her hand and gives q sign to her.
Screen froze.
Also See: