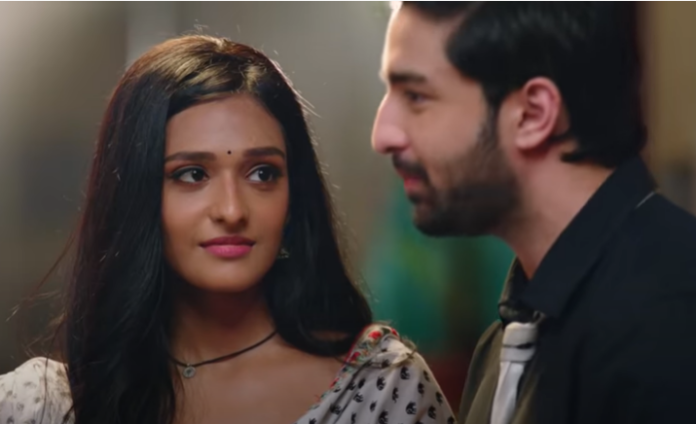 Scene begins in Neelam comes near Lakshmi whom standing near the pool and admiring the lotus there. She asks her what's bothering her? Lakshmi says nothing like that she was just thinking random thinks. Neelam says to Lakshmi that she has one request with her will she fulfill it? Lakshmi asks her to order her it instead of mentioning it as request. Neelam caressed her hair and tells her she won't react like this after she learnt about it. Lakshmi shares her in confusion. Neelam tells her that Rishi's horoscope saying his life is in threat till he complete his age 26. There is only one thing can save him from those dangerous situation. Neelam holds her hands and tells her that Rishi's life is in her hand please save him. Lakshmi asks her to explain it. She is ready to save him at any cost. Neelam asks her to get married to Rishi giving shock to her. Lakshmi asks her what's she saying? Neelam explains to her that he was ending up in life threatening moments many times. She checked his horoscope and found the reason behind it. Priest said to her only Lakshmi's horoscope will save him from this all. She will be his guardian in all dangerous situation. Lakshmi explains her background to her and tells her she don't deserve him at all.
Neelam says that doesn't Lotus blooming in dirty water thought its taking for pooja because place won't judge its value. Similarly Lakshmi may born poor but it won't judge her good heart. She is a lotus which bloomed in such place that's it. Neelam pleads her to save her son. Lakshmi hesitates first and tells her if Rishi has no problems to marry her then she will marry him. She thank her and assures her he will definitely agree to marry her.
Later Neelam returns to home happily and shares the happy news with her husband and Ayush. She asks him to convince Rishi but he tries to make her understand about Rishi's mind state but went in vain. Neelam confronts Rishi and demands him to marry Lakshmi but he simply rejects that proposals. Neelam says to him he might marry her or else she won't eat anything till he give a nod. Rishi leaves from there in anger. Neelam closes the door in anger. Her husband tries to convince her but she is pretty adamant in her decision.
Rishi returns home at late night and finds doctor there. Ayush complaints to him that he left his phone in home because of him mom state was critical condition. Rishi rushes to meet her.
Screen froze
Also See: