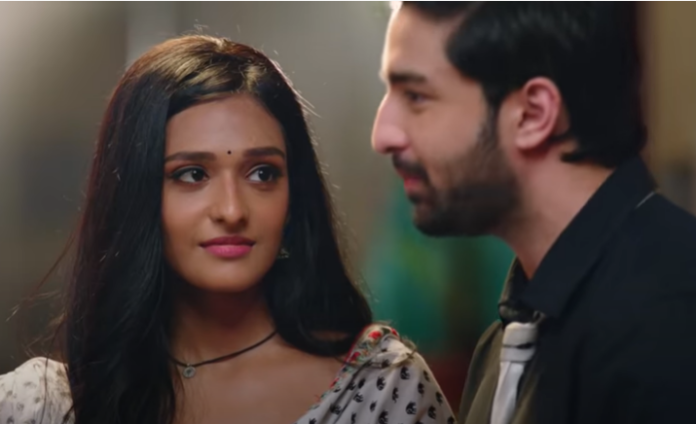 Scene begins in Neelam shares to her husband she chose Lakshmi as her daughter in law for a reason. She is perfect to this house and a saviour of Rishi. He nods with her. Meanwhile Rishi staring the drawing book emotionally. Ayush comes there and see him staring it. He complaints to him its unfair. Rishi glares him and says he gonna get marry to her for mom's sake. Once he find his Ladoo he will give divorce to Lakshmi. Ayush says to him he was hearing it more then 100 times. But he didn't meant it now. Rishi asks him what else then? He complaints to him Rishi thanked Lakshmi for formality there. Neither he didn't checked Lakshmi got hurt nor than her from his heart. Rishi asks him Is she get hurt? Ayush nods to him. Rishi gets panic hearing it and goes to her room without hearing anything. Rishi opens the door without knocking. Lakshmi whom trying to apply ointment in her wounds gets jerk hearing the sound. Rishi's eyes widen seeing her applying ointment to her kneel. She gets up in shock and lost her balance. He holds her on time preventing her falling down. Both shares an eyelock with each other. He apologies to her for entered in without her permission. She forgive him.
He enquired her about her wound. She assures to him she is fine just her kneel got hurt. He asks her Is he wanna take her to hospital? She denies it. He asks her to take rest and about to leave. He thank her from his heart. Lakshmi smiles back to him. Next day Marriage function take place. Neelam brings Lakshmi to mandap. She sits beside Rishi. Both doing the rituals together. Priest asks him to tie the nuptial chain around her neck. Rishi ties the knot with Lakshmi. He fills her hairline with vermilion. Both takes vows around the sacred fire. Neelam gets happy tears seeing them together. They gets blessing of elders.
At night Neelam arranged everything perfect for Rishi's first night. She sends Rishi inside his room forcefully. He Notices Lakshmi is already waiting for him. Rishi lashes out at her for expecting this from him. He asks her doesn't he said to her he was married to her for mom's sake. He keeps taunting her but no response from her. He goes near her to check her. He removes her veil and gets shocked seeing her sleeping. He smiles seeing her sleep like a kid. He makes her lay on bed and he sleep another side of bed.
Screen froze
Also See: