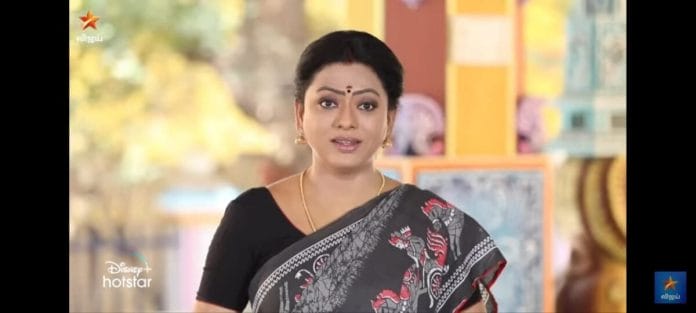 Bhagyalakshmi Upcoming Story, Spoilers, Latest Gossip, Future Story, Latest News and Upcoming Twist, on TellyExpress.com
Vijay Tv's popular show Bhagyalakshmi currently focuses on Bhagya doubtful on Gopi and Radhika dumping Gopi knowing the truth. Earlier its seen that Gopi saved Radhika at police station. Now it will be seen that Radhika will plan to shift to Mumbai.
Previously we have seen that, Radhika went to police station with her brother where Rajesh accused Radhika's character for having affair with married men. Her brother cleared that it's not true as Gopi was divorcing his wife and would marry Bhagya.
Rajesh refused their claims and showed video message as proof where Radhika threw Gopi out of the house. In order to clear the air, Inspector called Gopi to Police station. Gopi came there and cleared that it was true he's getting married to Radhika divorcing his wife and also told that the video was a mislead. Inspector agreed with Gopi and let Radhika go.
Radhika again lashed out at Gopi for messing with her life and asked him to leave forever. Paati wanted to get Ezhil's marriage fixed with a relative while Bhagya wondered how to handle the situation.
In the future episodes we will witness, Bhagya will check Gopi's phone when he will be inside washroom. Gopi will get angry seeing it and will ask her to give back his phone but Bhagya will not agree. She will angrily confront him about the contact name R while Gopi will scared. Later Radhika will visit Bhagya in temple who will say that she has planned to move to Mumbai.
Bhagya will asks her about her lover but Radhika will say that it's all over. Radhika will ask Bhagya about her husband who will say that she is still confused about whether to suspect him or not. Radhika will ask her not to worry as soon all her problems will be solved. Bhagya will get cunfydr
Will Radhika listens to her mother's words? Will Radhika and Gopi gets separated? Will Bhagya learn that Radhika is Gopi's lover?
All these questions will be answered in the upcoming episodes.
To know what will happen next in your favourite show Bhagyalakshmi, stay tuned to this space.