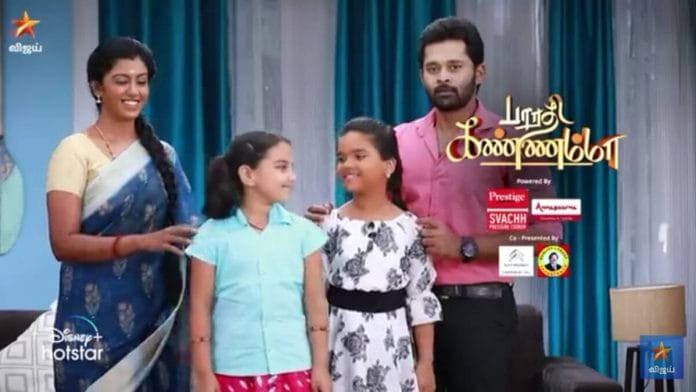 Bharathi kannamma 10th August 2022 Written Update on TellyExpress.com
The episode starts with Bharathi returns to home and shouts on his mother and Akhil. Soundarya asks him why did he arguing with them what happened yesterday? Doesn't he showed his anger on them yesterday. Even he didn't allowed Hema to talk with them. Bharathi says to them he thought only Hema's matter they hidden from him but they hide manything from him it seems. He has no idea how many secrets they are hiding from them? Soundarya asks him what is he saying say it clear?
Bharathi says to her he thought Hema only Kannamma's daughter but today Lakshmi mentioning him as father. She is thinking him as her father these many days though she hide it from him. Why are they adding that small girl into their cheap plan. Soundarya asks him to stop coming to an conclusion like this. Bharathi says to them stop acting to be innocent he learns everything about them. Bharathi adds that Lakshmi demands him to put sign in her progress card in parents teachers meeting.
They know well he won't do it right then why did they asked that girl to talk with him like this? He feels pity for her. She may be doubting why did dad left her mom? She may be imagine him as a villain. They are creating rift between him and Lakshmi. He says to them if he reveals the truth to her then she can't able to bear it. He won't do like that. He pleads with her to stop betraying him like this and leaves from there.
Meanwhile Lakshmi feels sad when did Bharathi refuses to attend Parents teachers meeting for her? She thinks that dad denied this small request too. Hema comes there and shares to her that Bharathi attends the meeting for her. Teacher praises her a lot in front of him. She feels so proud. She asks her Is Kannamma comes to attend the meeting? She denies it reasoning she has work. She will talk with teacher in phone. Hema asks her why didn't she informed it before her she would have asked Bharathi to talk with teacher behalf of Kannamma.
Lakshmi thinks that he didn't attend the meeting even after she mentioned him as her father. Hema says to her that she is happy because she saw her mom's picture. She gives lots of kiss to her. If her mom alive then she would have feel happy. She assures her that soon she will find out her dad too. Lakshmi thinks that it's better to reveal Hema that Bharathi is her dad. She changes her mind later.
Soundarya calls Kannamma and enquires her Is Bharathi reach to hospital? Kannamma informs her that he didn't yet because he took permission to attend the meeting. She asks her why didn't she attend the meeting? Kannamma tells her that she already took permission that's why. Soundarya reveals to Kannamma that Lakshmi asked Bharathi to attend the meeting behalf of her. When he refused to do it she asked him doesn't he her father?
Then why don't he attend it. Kannamma says to her she is a little girl how many days she can able to hide this matter from him? She may be burst out in frustration. Soundarya tells her whatever happened for a good reason. Kannamma tells her one day he might understand everything. Soundarya says to her that Bharathi misunderstood her again he mentioned it was a drama.
Bharathi calls Kannamma and lashes out at her for lying to Lakshmi? He complaints that she is playing this cheap drama to separate Hema from him. Why did she hide the matter from Lakshmi and lie to her he is her father? Why don't she mention who is her father? If 10 years passed means he won't forget the past. Kannamma says to him he is believing the same lie all these years. She doesn't care about anything at all. The truth is Both kids are her daughters.
Bharathi is her father. Bharathi lashes out at her for trying to separate Hema from her. Kannamma says to him she can able to prove legally that she is her daughter. Bharathi asks her to warn Lakshmi to don't call him as father. Kannamma tells him she will call him as father only. She can't able to stop kids. She asks him to stop behaving like a fool and accept the reality. She warns him to stop trying to separate her daughter from her.
Episode end