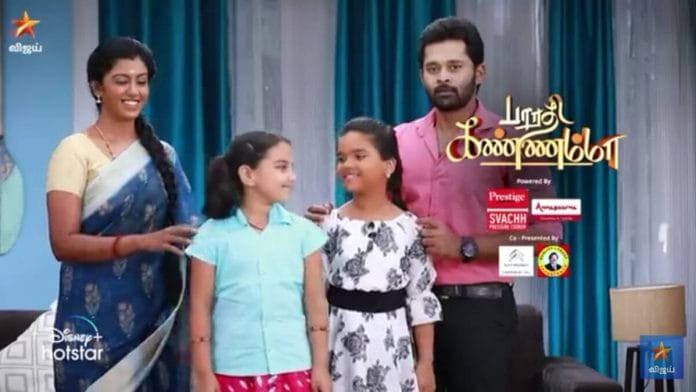 Bharathi kannamma 10th May 2022 Written Update on TellyExpress.com
The episode starts with Soundarya, she appreciates Hema for studying in her own. Soundarya gets information that news about Bharathi is telecasting in TV. Soundarya turns on the TV and watching it. Meanwhile Kumar shares it with Lakshmi. lakshmi asks Kumar to explain what's going on? Here Soundarya informs to Hema that Sakthi was sick she needs immediate heart transplant. Bharathi gonna do it. She asks her doesn't that girl die if they take that girl heart? Kumar explains to Lakshmi that Ayesha's brain is dead that's why they are transplanting her heart to Sakthi. Bharathi doing it for free that's why people are praising him. Lakshmi and Hema appreciates Bharathi there.
Ganesh discuss with his team how could they bring heart from Viluppuram to Chennai. His team mate asks him how will they bring it in 1 and half hour. They need 3 hours at least to bring it on road way. Ganesh adds that he was an experienced staff that's why they gave this responsibility to him. He took chopper idea. If we use this plan then heart will reach here half an hour before itself. Before Kannamma questions him Vickram and Bharathi comes there. He narrates his plan with Vickram and Bharathi. Bharathi praises his plan and adds that may that chopper cost a lot. Ganesh assures to him that he already talked with them so no problem about money.
Kannamma interrupts them Bharathi insulted her that don't talk for the sake she is also member in it. Kannamma shares to Vickram that she saw news about storm and heavy rain near by Viluppuram area. What if it continuous tomorrow also? This chopper plan won't work out on that time so it's better to take road way. Bharathi complaints that they took 2 hours to cross that road yesterday. Kannamma says that its impossible to do it without government help. Let's ask permission to Commissioner they will help us to clear the traffic and they can bring the heart on time. Bharathi insults Kannamma by saying she is sharing movie concept here it's matter of a life.
Bharathi asks Vickram to follow Ganesh's idea there. Vickram nods with him. They leaves from there. Vickram asks Kannamma what's bothering her? Is she sad that they didn't agree with her plan? Kannamma shares to him that it's a matter of life she is worrying about her life. What if climate change happen tomorrow then all plan will be flop. They can't able to seek police help on that time. They need pre-plan about it. Vickram asks her to believe rain won't come tomorrow. Later Shanthi informs to Venba that Sharmila went to Bharathi's house. Venba scolds Shanthi for giving address to her. Venba fears what did she done there. Sharmila returns to home and complaints to her its too hot outside. Venba asks her why did she went to his house? Sharmila informs to her that she went to talk about her marriage details with them. Venba gets excited hearing it. Sharmila clears to her that she went discuss about marriage not Bharathi and Venba's marriage. She seek her help to find a good groom for her daughter. Venba gets frustrated hearing it.
Episode end.