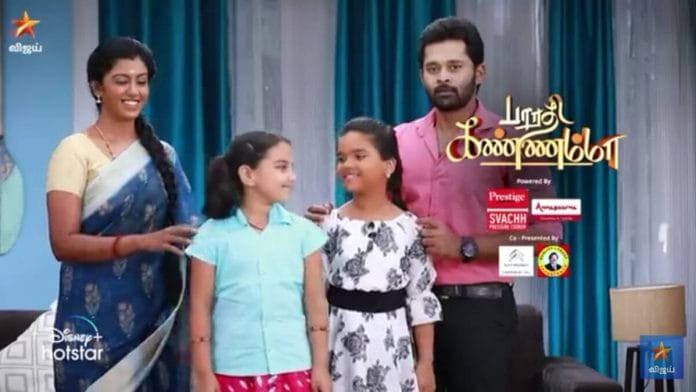 Bharathi kannamma 11th January 2023 Written Update on TellyExpress.com
The episode starts with Kannamma returning to home. Tamarai asks Kannamma why didn't she called her? She grinded spices for masala. Kannamma complaints to her that villagers are behaving weird. They used to inquire her about her daughters, business. But today they ignored her. Some shop owners refused to accept her products. She asks Tamarai what's going on here. Tamarai doubts that villagers are ignoring her for Paandi. She hides it from Kannamma. She advises her to concentrate on her business instead of worrying about others. Kannamma thinks that something is suspicious.
Kannamma and daughters are burning the old things. Bharathi also burning old things along with Ganapati. He is singing a song to entertain him. Hema asks Kannamma what's Bhogi? Ganapati says to Bharathi she asked some questions with sense. Kannamma says that people used to burn old things in this day. Nothing else. Bharathi teases her for giving a wrong information to kids. Lakshmi asks him to explain it then. Bharati says that Bhoghi means ' we want to forget out anger, pain in past days and accepting their new life. It means if he is angry on someone forget it and accept them back. Bharathi says that he is ready to accept his new life. Kannamma says that she already burnt the past life .
Later, Village president comes to meet Bharathi. He inquires him about his health. He assures him that he is feeling better. Village president asks Bharathi to leave Kannamma reasoning she isn't ready to accept him. Doesn't he has fame and money. He will get many girls to get marry. Bharathi says that he is regretting his mistake. Kannamma is everything to him. President thinks that he is trying to inform him indirectly about Kannamma's illegal relationship with Paandi but he isn't understanding it. He leaves from there.
Later, Thiruvizha function started. They conducts Wrestling match to entertain people there. Paandi and sella Muthu are competing with each other. People are clapping for him. Paandi won in the first round. Later, Manickam is discussing about Kannamma's relationship with Paandi. His friend assured him that youngsters saw them together. He alerts him that Kannamma's husband coming so hide this matter from him.
Bharathi and Ganapati comes there to drink tea. They are indirectly mocking at him about his personal life. They inquires him about Bharthi's personal life. Bharathi doesn't understand what's going on there. Ganapati takes him from there frustrated. Bharathi gets suspicious hearing it. Paandi complete with Maruthu and won in the match. Later, Shanmugam returns to home with a dirty shirt. Kannamma asks him what happened. He is hiding the truth from her. He asks her to go with Bharathi surprising her.
Episode end