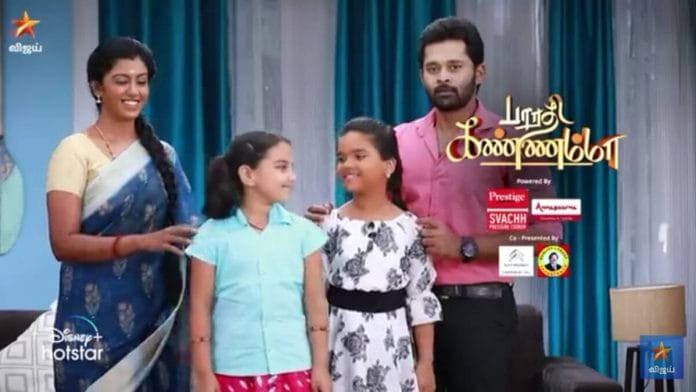 Bharathi kannamma 12th January 2023 Written Update on TellyExpress.com
The episode starts with Shanmugam requesting Kannamma to live with Bharathi. Kannamma asks him why he is asking like that? Shanmugam tells her that he won't do anything which affects her life. She is saying it for her better life. Let's return to chennai. Kannamma says that she divorced him to cut all his ties with him. She doesn't want to discuss about him again. Shanmugam asks her to live with him. Villagers are badmouthing about Kannamma. Kannamma demands him to say what's going on? Who is talking bad about her?
Shanmugam tells her that few thugs stopped his scooty and asked him who brought this scooty for him? Doesn't Paandi brought this for her? Kannamma asks him why are they connecting Paandi with her. Shanmugam says that Paandi created a scene that Kannamma was his keep. He gifted that scooty for her. When he argued with them. They beaten her. Kannamma gets furious hearing it. Kannamma asks him who created this rumours.
Tamarai says that Paandi did it intentionally to damage her name. Doesn't she warned her to don't mess with him. He created this rumours that's why villagers are not accepting her order. They are ignoring her. Kannamma gets Furious hearing it. Shanmugam asks Kannamma to unite with Bharathi. She leaves from there. Meanwhile, Bharathi says to Ganapati that something is fishy. They are hiding something them. Villagers are gossiping about them. Ganapati asks him to ignore them.
Tamarai comes there and informs him that Kannamma is in trouble. Tamarai narrates everything to Bharathi. Bharathi gets furious hearing it. He wishes to confront Paandi for it. Tamarai says that Kannamma left angrily to meet Paandi. He was in wrestling competition. It's tough to control his anger. Bharathi wishes to go there but Ganapati stops him. He alerts him that they are outsiders they shouldn't mess up with him.
Bharathi says that his wife was affected. How he will stay quiet? He leaves from there angrily. Village president announced the match. Paandi is wrestling with Rajendran in the competition. People are cheering him. Later, Paandi's men stops the bike seeing Kannamma. He asks her doesn't she left from this village. He thought she would have left from there in shame. She has guts to stay in this village. He adds that she insulted Paandi so he took revenge on her. She shouldn't have mess with Paandi for it. Doesn't he damaged her name without touching her. Bharathi comes there and hears their conversation. Paandi's men mocking at Kannamma. He says that she wants to apologise to Paandi and close her business.
Kannamma stops his henchman. She says to him that he said Paandi damaged her name without touching her. She will do the same without touching him. She challenges him to wait and watch. Meanwhile, Paandi wins the competition. Paandi says that he won this championship continuous for last three years. He will win it again and again. It seems there is no men to compete with him. He challenge the men to compete with him. Kannamma claps there. Kannamma confronts Paandi there. She hears them mocking at her and badmouthing about her. Kannamma lies to them that she has illegal relationship with Paandi. Kannamma says that he isn't a men. Kannamma mocking at Paandi.
Episode ends