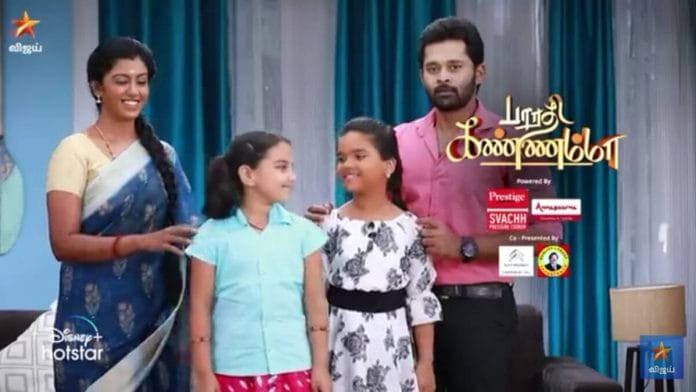 Bharathi kannamma 12th May 2022 Written Update on TellyExpress.com
The episode starts with Kannamma, Her team reaches to hospital. Chief doctor welcomes Kannamma and her team and enquires to her Is they arranged everything to transfer heart? Ganesh interrupts him and assures to him that they will take heart in chopper with in 1 hour heart will reach in Chennai. Doctor appreciates it. Kannamma enquires him about Ayesha's parents. He shares to her that they were broken. Kannamma decides to talk with her.
Doctor collects Bharathi's number from Kannamma. After he leaves Ganesh insults Kannamma for saying rain will come tomorrow in this summer time. He adds that Vickram gave this job to her on pity but she is trying to be over smart in front of experienced person like him. He adds that Kannamma literally behaving like village scientists. He asks her Is anyone get an idea to transfer heart in chopper? Is someone can transfer heart in road way with in 1 hour? Satheesh denies it.
. Ganesha says that there is only three person seat in chopper so Kannamma is not allowed to travel in it. There is no work for her in hospital so she can take bus to Chennai. Kannamma clears to him that she is also praying Sakthi's operation should be success without any problem. She fears it will be raining tomorrow that's why she suggested that idea to them.
Ganesh asks her to stop joking with him again. He asks her to don't disturb patient here too go and take rest in room. Kannamma meets Ayesha's parents and consoled them. Kannamma assures to them that Ayesha gonna live in this world through Sakthi. Kannamma informs to them about operation details she consoles them and appreciates them for taking such an good decision to donate their daughter's heart.
Later George calls to Bharathi and learns from him that everything arranged for operation. He asks Bharathi's help to do this operation with him reasoning he is pretty nervous to do the surgery. He is emotional to do it. Bharathi motivates him but he asks her help. Bharathi assures to help him. Bharathi thinks how will he manage the situation.
People's are discussing about the heart transplant. They are praising Bharathi for taking risk in this case. Some people doubts how will they bring heart to hospital in one and half hour? One lady prays for Sakthi's health. They fears storm may appear out of the blue. What will they do if rain comes there.
Meanwhile Kannamma prays to god to save Sakthi. She pleads god to help them to perform the surgery without any problem. She asks god to help them to take heart to hospital on time. Meanwhile Soundarya's family turns on TV to check what's going on there.
Ganesh waits for someone there Kannamma enquires to him whom coming? He insults her that he don't wanna share everything to her. Bharathi comes there surprising her. Kannamma learns from him why did he reached there. Ganesh insults Kannamma for trying to impress him. Media peoples comes there to take interview of him. Bharathi talks with media people and shares all information to them.
Episode end.