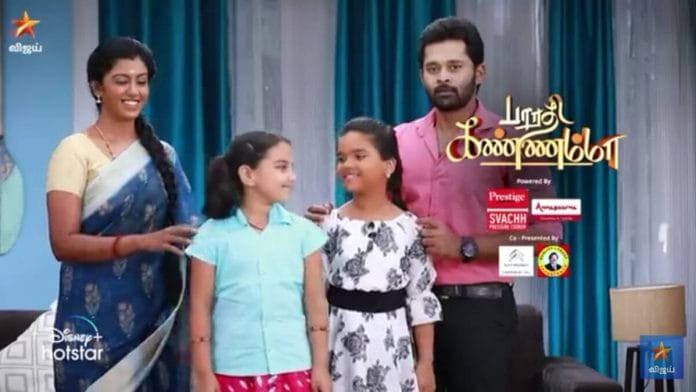 Bharathi kannamma 10th November 2022 Written Update on TellyExpress.com
The episode starts with Bharathi informing Akhil that he took DNA test for Lakshmi and Hema. Akhil gets shocked to hear it. Bharathi adds that Kannamma and family members are saying both Lakshmi and Hema are his children. This DNA test only bring truth out and put end card to his doubt. Everything went out of his hands when DNA test got delayed. Akhil asks him what's he saying? Bharathi narrates the incidents to Akhil.
Bharathi says to him that he was determined to marry Venba after he confirmed that both Lakshmi and Hema wasn't his children. He got trapped in Venba's plan. He was trying to escape from Venba but everyone saw him in such situations. Akhil asks him why didn't he informed anything to family members about it? Bharathi says that no one would have believed him. Akhil asks him Does he really take DNA test? He phones the lab technician to prove him. Akhil asks him to share this matter to family members. Bharathi says that he will talk with them after the result come. Akhil assures him that he is with her.
Meanwhile, Shanthi gives juice to Venba. Kannamma reaches there..
Shanthi gets scared to see her there. Kannamma shares to Venba that they complained to the Admin that AC isn't working. Is it working properly here? She asks her to enjoy the bed rest. Kannamma asks her to don't dare to snaps in front of her. Venba talks in disrespectful way. Kannamma tells her that she is an administrative officer here. Venba is a patient so she might give respect to her. Judy keep her decorum in this hospital.
Venba denied it reasoning she isn't worth to it. She will talk with her in disrespectful way only. Kannamma says to her that don't expect the respect from her. She will also gives the same to her. She know how to treat her well. Shanthi asks her how dare she to talk like that to Venba? Kannamma gives a fitting reply to her. She threatens her to keep quiet. Venba adds that Kannamma is happy because she won in everything. She may be stopped her wedding with Bharathi and made Rohith married to her. Separated Hema from Bharathi. But the game isn't over yet. Hereafter she will make sure that she won't live in peace.
Kannamma says to Venba that she isn't considering her as her enemy. She isn't worth to consider her as her enemy. According to her she is a dead snake to her. She doesn't want to best her anymore. She isn't worth. Kannamma asks her to hear from Shanthi what she is capable to do it. Kannamma asks her to take rest and leaves saying punch dialogue to her. Meanwhile, Bharathi visits the school to meet Hema. Hema ignores him. Bharathi shares with her that it's hard for him to stay away from her.
Why she is ignoring him. He tells her that he brought this snacks for her. Hema refused to accept the snacks from him. She asks him to don't disturb her again. He isn't her dad anymore. She is happy with her mom. Hema complaints that he wouldn't have lied to her if he consider her as his own daughter. Bharathi pleads with her to listen to him. Hema says to him that she don't like him. Hema complaints to Lakshmi that Bharathi is troubling him. Lakshmi asks her to go inside she will deal with it. Lakshmi lashes out at Bharathi for troubling her.
Lakshmi demands him to don't visit school hereafter. Or else she will ask Kannamma to shift her another school. Bharathi leaves from there heart broken. Meanwhile, Sharmila visits Venba in hospital. She lashes out at Venba for abort her baby intentionally. Rohith supports Venba there. Rohit assured her to give a heir to her asap.
Episode end