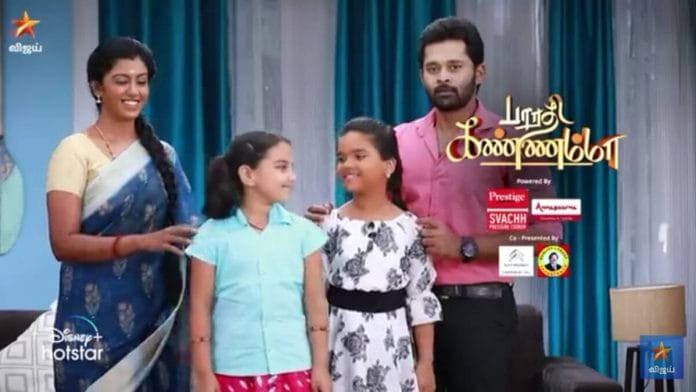 Bharathi kannamma 13th September 2022 Written Update on TellyExpress.com
The episode starts with Soundarya watching the flash news. Flash news is about Bharathi successfully completed the surgery for Vedhachalam. Terrorist demanded Government to release Selvam. Later, Hema inquired Lakshmi doesn't she scared to be here? Lakshmi tells her that she is scared. She informs her that Terrorists killed Parasuram. Kannamma scolds her for bringing that incident again.
Bharathi inquired her Hema what's the need to come inside risking her life? Hema shares with him that her favourite peoples are inside how she will stay outside? Kannamma complaints to Bharathi that Hema loves Lakshmi a lot though he tried to separate them. Doesn't he see Hema risked her life to meet Lakshmi? Bharathi feels guilty.
Later, Venba talking with someone over phone. She feels dizzy and vomits. Shanthi inquires her what happened to her? She was looking dull from morning. She checks her pulse and informs to her that she is pregnant. Venba gets up from her dream. She calls Shanthi but Rohith comes there. He asks her what happened? She refused to answer him and demands him to go out.
Rohith asks her Is she see any good dreams? She tells him that people usually ask Is she have nightmare? Rohith says to her that it may be bad dream to her but good one to others. He shares with her that he can able to guess which dream she had. She may be dreamt to become a mom of his child. Venba gets shocked to hear it.
Rohith talks with her in frustrating way. Meanwhile, Soundarya learns from flash News that government decided to release Selvam. They takes Selvam to hospital. Soundarya asks Venu doesn't Terrorist agreed to release 10 people from the hospital. Will he release her family members. Venu shares to her that he has no idea whether they release them or not? But definitely they will send Lakshmi and Hema out.
Saho demands 10 people to stand up. He shares with a nurse that she helped him to identify the fake doctor. He shooted him because of her help. Doesn't he promised her to release her from here. The time arrived. He gonna release her from here for her honesty. He adds that these 10 people will go out now because Government released one important person from jail.
If government don't fulfill their demands then he will choose random people to shoot. He asks them to pray to god that government will fulfill their demand. Meanwhile, police taking Selvam from there. Rathnam shares with Saho that police taking Selvam to hospital. He wants to release hostages. Saho demands him to send only one police with him. Rathnam denies it reasoning armed force will be with him. Saho asks him to stop taking risk. If he plays smart then he won't hesitate to shoot anyone.
Later, Police brings Selvam to hospital. Saho demands police to unveil Selvam's face. He released the hostages. It's airing in flash news. Selvam appreciates Saho for taking risk for him. Saho shares with him about his plan. He asks him to wait for thr surprise. He asks him to change his dress. Kannamma gets shocked to find Selvam there.
Episode end