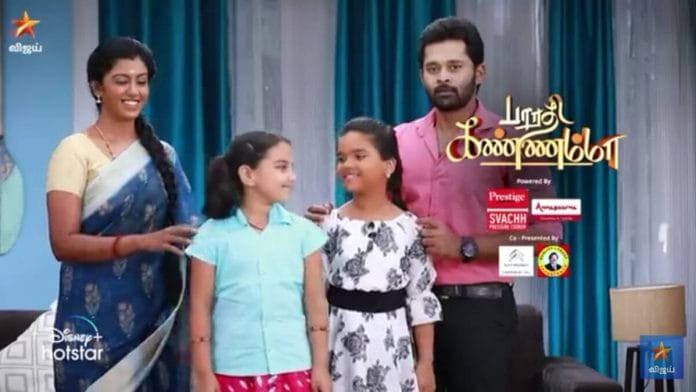 Bharathi kannamma 14th November 2022 Written Update on TellyExpress.com
The episode starts with Lakshmi informing to Hema that Kumar isn't picking them on time after school? She wants to inform about this to Kumar and stop using his auto. Hema shares with her that she wanted to get a mom like Kannamma in her life. Lakshmi says to her that as she expected Kannamma turned out to be her real mom.
Lakshmi says that she used to mention her as her sister. Now she turns out to be her real sister. Hema asks Lakshmi doesn't she know about this truth earlier? Lakshmi nods with her. Hema demands her to say when did she learnt the truth? Lakshmi informs her that she learnt this truth when terrorist abducted them. Kannamma was discussing with Anjali about them. She heard their conversation and learnt the truth. Hema complaints that she learnt the truth earlier though she didn't shared it with her.
Doesn't she saw her crying for her mom. She misunderstood that she was an orphan. Lakshmi was presented when Bharathi lied to her someone else as her mom? Lakshmi says to her that she doesn't hide the truth from her intentionally. Hema complaints that everyone hide the truth from her. She doesn't want to talk with anyone. She leaves from there in anger.
Later, Technician informs Bharathi that DNA test will reach to him in three days. Bharathi asks him does he need new samples? He denied it. Bharathi thinks that he won't leave Kannamma after he got the results. Kannamma enters inside on time. He fears that she listened to his conversation.
Kannamma informs Bharathi that medical association isn't able to reach him. They asked her to attend the medical conference. Bharathi assures her to attend the conference. He asks her to don't fix any appointments on that day. Bharathi tells her that he wants to talk with her something important about their personal.
Don't take class to him that he shouldn't bring personal things in the office time. Bharathi inquires Kannamma about Hema? Kannamma informs him that Hema is happy with her. Lakshmi taking a good care on her. Bharathi asks her to help him. Kannamma says to him that she didn't expected him to ask help to her. Bharathi tells her that Hema is everything to him. She gave new life to him. He isn't able to live without her. He pleads with her to bring her back to him.
Kannamma denied it reasoning she was living far from Hema from after her birth. She united with her recently. How will she send her back to him? If she wish to send her back to him also Hema won't agree to go with him. She was angry on him. Bharathi complaints that she is using the situation favour to her. He would have stopped her by saying she isn't her mother. Kannamma tells him that Hema wouldn't have believed him. Because she is right here. Bharathi is wrong.
Doesn't she advise Hema to stay with him even after the truth revealed? Hema was hurt a lot that is why she decided to leave from home. He isn't realising his mistake. Kannamma complaints that he was mentioning Hema is his everything. Then what about Lakshmi? Doesn't she his daughter? Why he is hating her? Bharathi says to her that he was already stressed out. Everyone are torturing him by avoiding him.
Kannamma complaints that he was the reason for everything. He might pay for his deeds. Kannamma says to him that she wants to say something to him. Let's go back to home and reveal to their kids we are husband and wife. Let's start a new life. Bharathi remembers Venba's words. He thinks that he won't believe anyone blind. He refuses Kannamma's request. Kannamma warns him that she won't accept him when he regretting his mistake.
Episode end