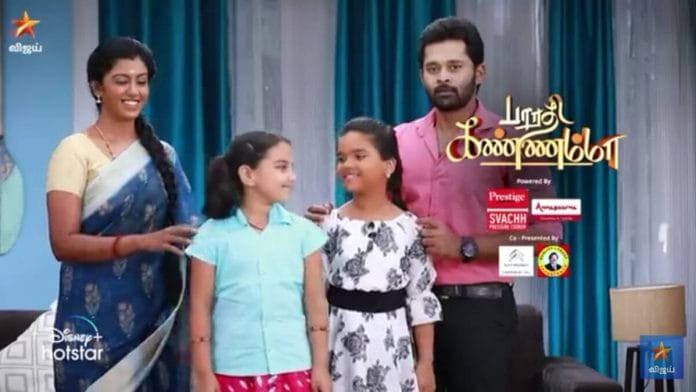 Bharathi kannamma 15th August 2022 Written Update on TellyExpress.com
The episode starts with Hema asks Soundarya to give her phone reasoning she wanna play in it. She feels bored. Soundarya tells her dad brought laptop for her. Hema asks Anjali to give her mobile but she denied it. She advises her to stop playing in mobile. Kids don't use mobile in this age. Hema asks her why didn't dad send her to school? She says to her that she doesn't know what's going on in Bharathi's mind. Anjali tells her that Sharmila coming.
Soundarya welcomes her happily. Sharmila meets Anjali first time and introduced to her. She asks Hema why didn't she go to school? She tells her dad didn't send her to school. Soundarya lies to her that she is tried after birthday party so Bharathi didn't send her to school. Venu and Akhil comes there. Sharmila says to them she came to India to perform Venba's marriage but she couldn't because of her urgent work. Now she is here to perform Venba's engagement. Akhil gets surprised to hear it. Sharmila asks them to attend the function. She asks them to inform Bharathi about it.
Kannamma comes to meet Bharathi. She says to him that she wanna talk with him. He asks her Is it personal or official? She says to him it's personal. Bharathi says to her that he don't have time to waste talking with her. He demands her to get out of his cabin. Kannamma asks him why did he stop Hema going to school? Bharathi asks her who is she to question him?
What's her rights to question him? Kannamma tells him that she is her mom she gave birth to her. Why did he stopped her education. Is he a doctor? Why did he spoiling her education? Bharathi tells her that Hema is his daughter. She don't have any quality to question him. He is a doctor here but she is mere administrative office without any proper qualification. Kannamma asks him to stop diverting the topic. Whether she has qualification or not is none of his business.
Vickram will take care of it. As a mom she can't able to see him ruining her daughter life. Stop playing with her education. Bharathi says to her that she don't need to poke her head in this matter. Kannamma tells him whatever he tried he can't able to separate Lakshmi and Hema. Is he fears Lakshmi confess all truth to her? Then he don't need to worry about it because Lakshmi won't share anything to her.
Bharathi mocks at Kannamma and tells her he don't have fear at all. Kannamma says to him if he dare to separate her daughter from her then she won't sit quiet. Bharathi asks her to leave from here. Bharathi walks away. Later Hema thinks that she is feeling bored here why didn't dad send her to school. Bharathi comes there and asks her Is her vacation good? She shares to him that she feels bored here. Bharathi says to her she has laptop here why didn't she learn anything from it?
Hema says to him if she go to school she can play with Lakshmi. Bharathi thinks that she is always thinking about Lakshmi he don't wanna send her to school. Bharathi tells her that some people are trying to separate them. Don't believe anyone whom complaining against him. Hema assures him that she don't believe it. He showed her mom picture to her so she will only listen to him. Bharathi tells her that she is a kid that's why he didn't share anything to her. Bharathi tells her that he will arrange a teacher for her to study in home. He helps her to study.
Soundarya and Sharmila are discussing about Venba's marriage. Soundarya says to Sharmila that she will take care of all wedding arrangements. Sharmila thank her for helping her. Meanwhile Rohith brings special milk for Venba. He tries to impress her but Venba lashes out at him. Sharmila and Soundarya comes there hearing their sound. Sharmila asks him what happened? Rohith plays innocent role there. Venba refuses to marry him. Soundarya consoles him.
Episode end