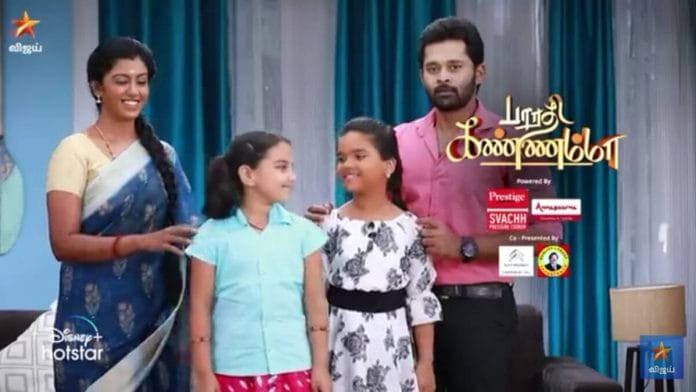 Bharathi kannamma 15th September 2022 Written Update on TellyExpress.com
The episode starts with Bharati getting beaten up by terrorists. The leader lashes him out for trying to sedate them. They thrash him badly. They say that they should've killed him with the military man but is still alive only because of minister. They decide to kill him once their demand gets fulfilled. The harasser terrorist again misbehaves with women. They all come out crying. Soundarya creates a ruckus to go in but get stopped by police.
The Inspector lashes out at Soundarya for interrupting them. She asks why didn't they release anyone from the family. Soundarya asks who got shot sometime before as they heard gunshot. Inspector says that Bharati is safe so does others. Chairman suggests to speak with Bharati or Kannamma and gets scolded. Inspector sends them away.
Soundarya hears news about Bharati's act and and reveals that the video of Bharati with injury sent by terrorists. They console Soundarya that they wouldn't harm Bharati as they had to save Central Minister using Bharati. Kannamma sees the harassed women crying and Kannamma consoles her thinking that she's crying for not going out. The girl says that one terrorist is behaving with the woman present there. She says that the terrorist has misbehaved with many woman. She says its night time and he'll come again. The terrorist comes again and searches for whom to select. The terrorist chooses Anjali and asks her to get up. Kannamma stops her and says that she will go. Terrorist agrees and Kannamma leaves with him.
Kannamma takes him to some other place and it is a store room. He tries misbehaving with her too. He gets closer with her when Kannamma gets hold of the surgical scissor without his knowledge. He keeps the gun down and starts speaking sexually with her. She recalls the girls cries and immediately stabs his neck with the scissor. She continues stabbing him again and again puncturing his body. He falls down dying.