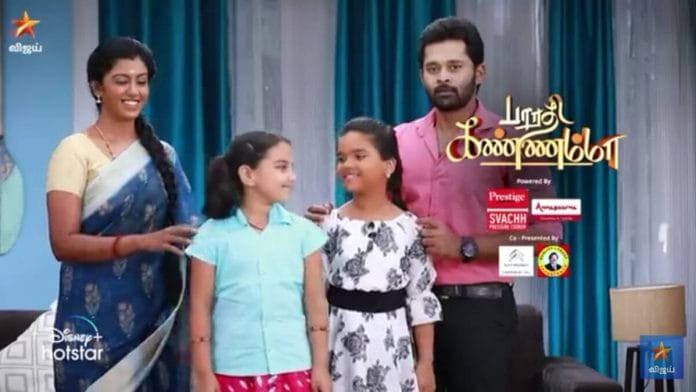 Bharathi kannamma 16th July 2022 Written Update on TellyExpress.com
The episode starts with Bharathi asks nurse and office staff to arrange operation theatre for Janaki. Rakesh rushes near him to inform him that Janaki has breathing trouble. Bharathi and Kannamma rushes near her. He checks her condition and ask family members to give some air to her. But he gets disappointed seeing her passed away. Bharathi shares this to her family members with heavy heart.
Family members and Raman gets devastated hearing that news. He cries behind her. Soundarya's family too reached there on time. Raman faints beside her Bharathi checks him and reveals he is also no more giving shock to all. Everyone cries for them and taken them to ambulance.
Kannamma and Bharathi are keep thinking about Janaki and Raman's beautiful moments and the way they gave promise to them. Soundarya shares to Akhil that she never saw a couple like Janaki and Raman in her life. They are perfect example of loving each other couple.
Raman loves Janaki a lot that's why he couldn't accept her death at all. According to him she is everything to him. They used to take decisions discussing with each other. They will never take any decisions without their partners knowledge at all. Raman's love is true that's why he died beside her not able to accept her death.
Soundarya advises Akhil to live like him. Bharathi is not ready to understand Kannamma and her kid for his ego. He is still believing he is right and Kannamma is wrong. If he understand the life and live with Kannamma that's the happiest day in her life. She advised Akhil to don't behave like Bharathi.
Akhil assures her. Meanwhile Bharathi calls Kannamma and asks her to take along with him. He informs to her that Janaki took promise from him to spend a day out with his wife and kids. Kannamma shares to him she done the same to her also. Bharathi asks her to lie with kids they are going for a picnic. Kannamma nods and thank him. Bharathi informs this to Hema and she is on cloud nine.
Episode end