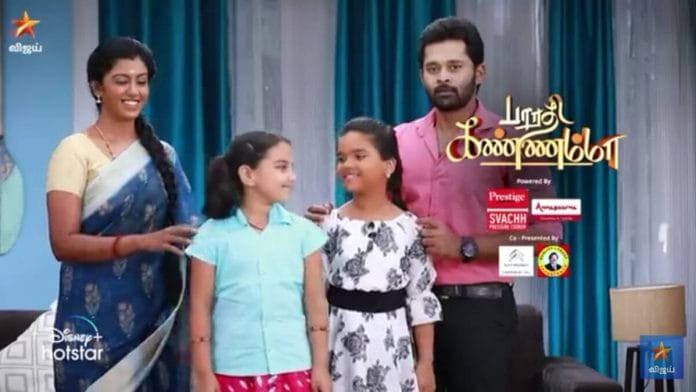 Bharathi kannamma 16th November 2022 Written Update on TellyExpress.com
The episode starts with Bharathi is talking with the nurse about a patient report. Venba notices Bharathi there and goes to meet him. She greets him but Bharathi avoids her. Venba asks him to treat her as a patient at least. He wasn't inquiring about her health as a doctor too. Bharathi says to her that he lost everything in his life because of her. Though she was expecting him to talk with her normal? He understands her evil thoughts well. Venba says to him that she cares for him a lot. That is why she is coming back to him even after he humiliated her. Doesn't he understand her love for him? She heard whatever happened in his home. That Kannamma used his situation to separate Hema from him. His family hating him because of her. Doesn't Soundarya adopted Hema from the orphanage. Then how could she claim Hema is her daughter? She created a fake story to take Hema from him. She is doing it to separate her from him. Bharathi says to her that she is worst then that Kannamma. She shouldn't play a innocent character here.
Bharathi adds that Venba betrayed him more than that Kannamma. Venba asks him how could he compare her with that Kannamma? Bharathi adds that whether Hema living with him or Lakshmi living with him. It's none of her business. Whether he accepts Kannamma nor argue with her. She doesn't want to poke her head in her family matters. He asks her to stay away from his life. She is a stranger to him. Venba thinks that she won't leave him. If he refuse to accept her then she won't hesitate to kill his family members including him. Doesn't he saw his close friend yet. Here after he will see her villain face too.
Later, Hema and Lakshmi are discussing about Diwali sweets. Kannamma asks them to help her preparing Gulab Jamun. Children helps her preparing it. Hema hides one sweets in her mouth and lies to her she didn't eat anything. Kannamma caught her red-handed. She laughs seeing their cute moments. Later, Bharathi returns to home. Soundarya stops him and inform that tomorrow is Diwali. Bharathi adds that they used to arrange everything one day before Diwali. But this year our house lost that happiness without Hema. He doesn't want to celebrate Diwali without her. Soundarya says to him that they decided to celebrate their Diwali with Kannamma. They doesn't want to waste their life. Anjali asks him to join with them. Doesn't he wish to celebrate his Diwali with Hema.
Soundarya says to Bharathi that she will talk with Kannamma about it. She may be accept her request and let him celebrate the Diwali with her. Bharathi asks her to don't request to Kannamma for him. He asks them to celebrate Diwali with her. He just want to see Hema happy. She will be happy with her. Bharathi is adamant in his decision and leaves.
Later, Venba notices that someone sleeping beside her back hugging her. Venba shouts seeing Rohith. Rohith asks her to stop shouting like that it's scaring him. She scolds him for hugged her. Rohith irritate her with his attitude.
Episode ends