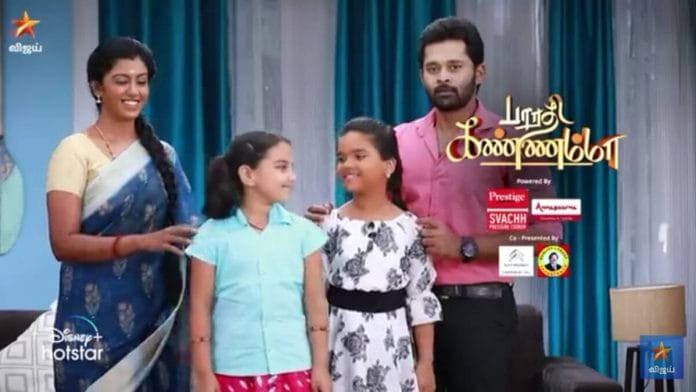 Bharathi kannamma 16th September 2022 Written Update on TellyExpress.com
The episode starts with Kannamma stabbed Viswa who tried to misbehaved with her. Terrorist comes there and inquired her what's she doing? Does she aware of her deeds? Kannamma stops him. She questions him Doesn't he Perumaal and Kaamatchi's son? He was the one highly educated person in that village? Why is he behaving like this? He was supporting the terrorist who tried to destroy this country.
They are demanding government to release the terrorist who killed many people's. He shouldn't supported them. Kannamma asks him doesn't he ashamed to do this? Will he stay quiet if this incident happen with his sister or mother? Is this the way he gonna make his parents proud? She shares with him that she helped his mom financial when she was in her tough time. If he want to kill her then he can able to do it. He leaves from there in silent.
Kannamma returns to her place. Anjali asked her what happened? She asks her to stay silent. Saho congrats Rathnam and questions him doesn't he have sleep? He inquired him when will he release his other brothers? Rathnam shares with him that it's not easy to release them. They have many case on their names. Few of them were in other state? It's tough to release them. Rathnam asks them to release another 10 hostage. Saho tells him it's impossible. If he send 10 people out then his side will be weak. If he agreed to send one person to him then he will also release one hostage to him. He gave that offer to them because its first time. He agreed to send 10 hostages for Selvam's sake. He won't do that mistake again.
Later, Sharmila asks Rohith what's bothering him? He shares with her that Kannamma is in Terrorist custody. He wasn't feel good after he saw the news. Sharmila tells him that she is also feeling bad for Kannamma. Just then Fortune teller comes there. Sharmila asks him who is that? She shares with him that fortune teller won't lie. Fortune teller announced to them that one new person gonna come to their house. Sharmila asks him who is that new person? They were discussing about it.
Venba comes there and questions them what's that sound? He narrated to her what happened there. Sharmila asked him what happened? He about to share the truth to him but Venba asked him to don't say anything. Rohith shared with her that he is talking about his baby. After marriage she will give birth to baby. Sharmila adds that still they are not married yet but he is talking about baby. He feeds sweets to both of them. Sharmila appreciated his excitement. Venba gets frustrated by it.
Later Terrorists informed to Saho that someone stabbed Viswa. He found out his dead body in the store room. He gets frustrated after heard the news. He personally goes there to check him. He shoots down in anger. He demands everyone to find out who killed Viswa? Kannamma consoles the kids who is crying.
Rathnam trying to connect Saho but no one attending it. Soundarya fears the worst after heard the bullet sound. Vickram assured to her that they won't shoot Bharathi because they needs his help. He trying to console her. Saho threatens the hostage to confess the truth who killed Viswa? He placed gun on hostage and threatened to kill him. Kannamma confessed that she killed Viswa. Saho pointed gun at her. Lakshmi pleads with him to don't shoot her. Kannamma demands him to shoot her after he learnt the truth. Saho tells her that he don't need her explanation. Kannamma says that she is not scared to die. Selvam demands him to shoot at her.
Episode end.