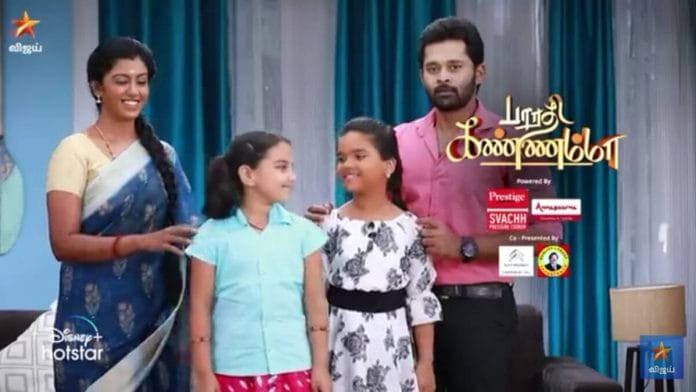 Bharathi kannamma 17th September 2022 Written Update on TellyExpress.com
The episode starts with Saho points gun at Kannamma. Selvam demands him to shoot her without showing mercy to her. He feels something fishy. He inquired her What's the need to kill Viswa? Why did she killed him? Kannamma questions them doesn't they took class to them when they captured this hospital? Doesn't they mentioned about their policy to them? They were proud about their policy but they done a cheap things to them. Saho asks Kannamma to stop taking class to him instead say what have he done to them? Kannamma shares with him that they were misbehaving with girls it was their policy. Selvam demands her to say the truth. Kannamma shares with Saho that Viswa misbehaved with girls in hospital. Already they were captured this hospital. Girls were under pressure. They are not sure whether they return to home or not? But Viswa misbehaved with those innocent girls. They are not bold enough to share it out or fight with him.
Saho is not ready to believe it. Selvam says to him that Kannamma is creating a story to confuse him. She is better in diverting them. Kannamma asks him why should she lie to them? Selvam asks her doesn't she planned to divert them? Kannamma tells him that many are targeted by him. Will they believe if she prove it to them with evidence. Selvam agreed to her. Kannamma pointed few girls to them and shares to them that they were abused by Viswa. Totally 6 girls were affected by him. Kannamma asked them to confess the truth to them. They won't understand their problems till we open their mouth? Kannamma asks them to don't be scared. Some girls narrated to them whatever happened. Selvam interrupted them. She complained that Kannamma's staffs were supporting her. Kannamma shares with them that he used many girls for his selfishness. He misbehaved with the girls whom went to use restroom. After that he started choosing his favourite persons. When he chose Anjali she stopped him and went with him. He even tried to misbehave with her. That's why she killed him by using surgery scissors.
Selvam complained that she was creating stories to confuse them. He demanded Saho to shoot her reasoning she is accusing them without any evidence. Her hospital staffs were lying to them to save Kannamma. One girl went out so we couldn't ask anything to her or bring her back again inside. Viswa already died. Who will give assurance to them? Saho asked the crowd who witnessed it exept them? Everyone stayed quiet there. Selvam said to them no one witnessed it. He demanded Saho to shoot her. Kannamma stood brave in front of him. Saho complained to her that his brother won't misbehave with girls because he didn't raised him like that. He won't believe her allegations. He pointed gun at her to shoot.
One of the lady terrorist comes forward and stopped him. She said to Saho that Kannamma was right. Viswa misbehaved with many girls. He treated them badly. Even she warned him to don't do anything like that. But he didn't listened to her at all. She tried her best to inform Saho about it but everything were over before that. Saho backed off from shoot her. He marched near Viswa's body and kicked him in anger. He shooted him many times. Jessy tried to contact Saho. He shares with them that he shooted one of his brother for misbehaved with girls. In few minutes it aired in flash news. Soundarya gets worried seeing it.
Episode end