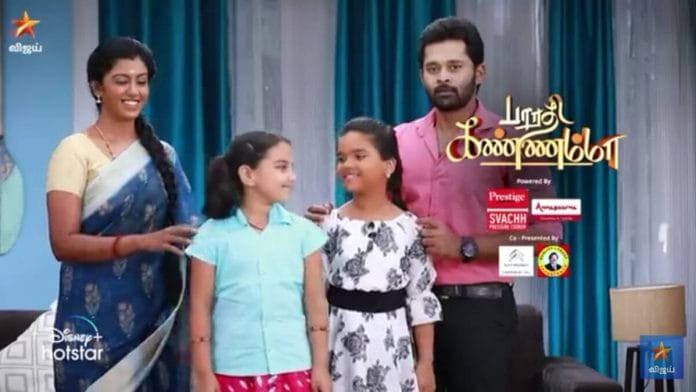 Bharathi kannamma 19th January 2023 Written Update on TellyExpress.com
The episode starts with Soundarya inquiring Deepak about Bharathi's health. The doctor advised them to don't panic. Bharathi's back of head was injured. He doesn't recognise his family members. Soundary asks him when he will get alright? Deepak tells her it's not in his hand. Maybe he will take a few days to get back his memories. He advises them to help Bharathi to bring back his memories. He isn't sure whether Bharathi forgot everyone or some part of his life. He is surprised to see him forgetting his family members. Bharathi is able to do his daily activities. But he lost his memory. He advises them to help Bharathi to bring back his memory.
Tamarai asks Kannamma what to cook for lunch? Kannamma is worried about Bharathi. She hesitates to call Soundarya to inquire about Bharathi. She convinces herself it's not wrong to worry about him. She calls Soundarya. Soundarya informs Kannamma that Bharathi gained consciousness. But he lost his memory. He couldn't recognise anyone. Kannamma was shocked to hear it. Soundarya shares her grief with Kannamma. She tells her that she can't talk with her anymore during stress. She disconnects the call. Tamarai inquires Kannamma what happened to Bharathi? Kannamma informs her that Bharathi lost his memory.
Lakshmi asks Kannamma how could he forget his family members? Pooja tells her students, forgetting the answer in the exam hall. But he forgot people. Meanwhile, The Nurse hears Bharathi repeating Kannamma's name. The nurse informs the doctor about it. Everyone is surprised to hear Kannamma's name. Ganapati says that his love for Kannamma is true. He records the video. Soundarya tells him that he forgot his mom but remembers Kannamma. He loves her a lot. Deepak advises Soundarya to bring Kannamma here. Let's proceed with further treatment with her help. If she cooperates with them, it's easy to cure him. Anjali tells him he is divorced from her. Deepak says to her it's important to bring her here. Soundarya assures him that she will take her.
Ganapati takes Soundarya to Kannamma's house. Kannamma was surprised to see her there. Soundarya cries, hugging her. Soundarya says to Kannamma that she believes her. She is god to her in this situation. She shouldn't deny her request. Kannamma asks her to say it. Soundarya tells her that Bharathi forgot everything except Kannamma. Kannamma was surprised to hear it. Kannamma couldn't believe her words. Soundarya asks her," Doesn't she believe her? Ganapati plays the video for her. Ganapati tries to convince her. Lakshmi asks Kannamma to help Soundarya to bring back Bharathi's memory. Hema pleads with her to do it. Kannamma assures her to help Bharathi. Deepak advises Kannamma to meet Bharathi. Bharathi meets Kannamma but he can't recognise her either.
Episode ends.