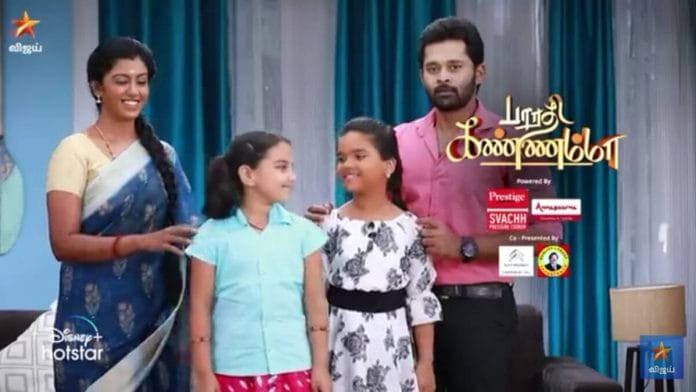 Bharathi kannamma 19th July 2022 Written Update on TellyExpress.com
The episode starts with Swamiji provokes the people against Sivagami's family. Sivagami falls on his feet and pleads him to forgive her. People denies it there. Sivagami asks Swamiji to wear the sarie to god. He suggests Sandhya to do this task.
Saravanan refuses to send Sandhya there. Sivagami forces Sandhya to do this. His assistant picks Sandhya for not wearing the sarie properly. Swamiji asks Sivagami to call another two woman to do it. Sivagami and Archana ready to do it but Swamiji didn't give permission to Archana reasoning she is pregnant.
Kannamma comes forward to do it. Swamiji finishes the meditation and throws garlands on people. He complaints to everyone that jewels is missing. Doesn't he gave all jewels to Sivagami to wear it to god then where did all went missing? He complaints that god came to bless this village people.
But they stole the jewels from god. Swamiji blames Sivagami's family in front of all people. He adds that these three woman went to wear the jewels to god then where did jewels went? Sivagami says to him they didn't take the jewels at all.
Swamiji says that he is strongly doubting them. Doesn't Kannamma came forward to do this all. He is doubting her. Sandhya asks him how could he blame them without evidence? He says that they gave the jewels to the person secretly and playing drama here. People starts badmouthing them. They accuses them as thief family. Sandhya argues with Swamiji for accusing them unnecessarily.
Kannamma asks him why would she steal the jewels? Bharathi gets angry to hear it all. Bharathi comes on stage and says to all he is rich he can able to buy more then that because he owns a hospital. What's the need to steal this jewels. Saravanan complaints that he is behaving like this in anger on them. Doesn't he taking revenge on them for complained against him.
Swamiji provokes the people against Sivagami's family and suggests an way to solve this issue. Sandhya and Kannamma takes arathi to god. When Sivagami takes arathi blood tears skipped down from idol. She drops down the arathi thaal in fear.
Everyone gets shock seeing it. Swamiji blames that Sivagami steal the jewels. People starts badmouthing Sivagami there. Swamiji provokes people against Sivagami there. Sivagami pleads with him that she didn't take this jewels. Ravi says that she shouldn't have take this jewels reasoning she was eager to build the Temple. He collected more money to build that temple. Saravanan and Sandhya demands him to don't take revenge on them.
Meanwhile Swamiji's assistant hides the jewels in Sivagami's house. Swamiji pretends like he is forgiving Sivagami in front of all. We are not god to punish them. Sandhya done a mistake by stopping a Boomi Pooja. Swamiji accuses Sivagami in front of all. He says its wrong to arrest them. He adds that he is giving one more chance to them.
He asks them to return the jewels to him and apologize to god. More then that they wanna withdraw the case to cool down god. Saravanan refuses to do it. Swamiji threatens them to send them to jail then. People says that they don't deserved this punishment. Swamiji asks people to don't talk with this family and stay away from them. He emotionally threatens everyone that they will be punished by god if they cross it. Swamiji demands Bharathi to don't return to Chennai till this problem get solved.
Later Sandhya and Saravanan confronts Swamiji that he intentionally trapped them in it. They accused him that he steal the jewels and accusing them. Swamiji threatens them.
Episode end