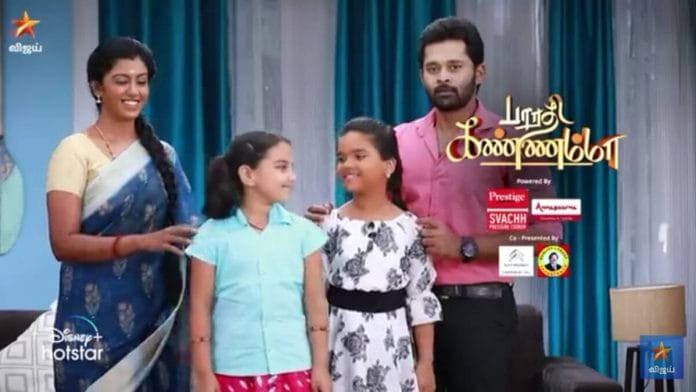 Bharathi kannamma 19th November 2022 Written Update on TellyExpress.com
The episode starts with Bharathi crying thinking about Kannamma's words. Bharathi's conscience comes there. He asks him doesn't Kannamma said right? It's hard for him to live without Hema. At least he is able to live with Hema if he agree to accept Kannamma back in his life. He thinks that Kannamma is right. She didn't do any mistakes. That is why she is adamant in her decision. What if Bharathi misunderstands her? There is a chance he misunderstood her. He advises him to accept Kannamma. Kannamma used to say she will accept him back when he apologized to her for his deeds. She forgot everything and give another chance to him.
Bharathi clears to him that he won't accept Kannamma until the DNA test results come. Bharathi asks her what's the reason? Bharathi adds that he believed only two person in his life. Soundarya and Venba. But both of them cheated him. He won't take any decisions without seeing the DNA test result. He assures him that he will apologize to Kannamma of DNA match and plead with her to accept him back. If it's not matching he won't leave anyone those who supported Kannamma. He asks him what if she change her mind on that time? It's his life and his decision. His conscience leaves from there.
Later, Lakshmi hears the gate sound. Lakshmi wishes to alert kamnamma about the school incident. Lakshmi excuses Hema and gives out. She informs Kannamma that Hema inquired her about Dad. Teacher asked her to mention who is her father? She is determined to find him out. Kannamma asks her Does she reveal the truth to her? She denied it reasoning she asked her to hide it from her. Lakshmi asks her to manage the situation and leaves.
Meanwhile, Hema gets happy to see Kannamma return home. She asks her to check her home work. She praised her hand writing. Hema adds that Lakshmi used to write like Kannamma. She studied that kids will resemble their parents in any way. She thinks that she is resembling her dad. She asks Kannamma who is her dad. Kannamma gets angry on her. Kannamma demands Lakshmi to say who is her mom and Dad? Lakshmi mentions that Kannamma is her both mom and Dad.
Kannamma warns Hema to don't bring her dad topic to her again. Kannamma closes the door on her face. She thinks that already Hema hating Bharathi then how will she reveal the truth to her? Lakshmi says to Hema that she already warned her she shouldn't question Kannamma about her dad? She will get angry on her.
Later, Sharmila brings Venba back to home. Rohith tries to help Venba but she avoids him. Shanthi comes there to take arathi to her. Sharmila pushes it away in anger. She says that she didn't did any good things to take arathi. She aborted her baby. Sharmila demands Shanthi to give medicine to Venba on time.
Rohith says that he is here to give medicine to her on time. Sharmila thanks him even after this much happen she taking care of her. She asks her to place the bag in Venba's room. Venba refused to allow him in her room. Sharmila says that he is her husband. He might stay with her. Venba refused it. Sharmila threatens her to send her back to jail for illegal aborting case. She calls the lawyer to reopen the case. Venba agrees to her condition.
Sharmila disconnects the call. Later, Hema calls Bharathi and informs him that she find out her mom. She wants to find out who is her father? She wants to know who is that? Bharathi gets emotional hearing it. He tells her that he doesn't know it. Hema gets hurts to hear it. Bharathi asks her when will she come to visit her. She disconnects the call. Hema thinks why she is hiding about her father identity?
Episode ends