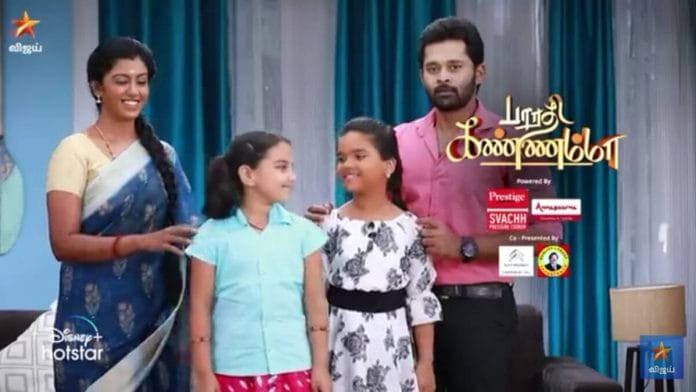 Bharathi kannamma 19th September 2022 Written Update on TellyExpress.com
The episode starts with Sharmila praising Venba's beauty. She teases her that she is glowing after she fixed her marriage with Rohith. Venba asked her to stop blabbering. Sharmila tells her that it's the truth but she is not ready to accept it. Sharmila leaves from there. Shanthi stares Venba in confusion.
Venba demands her to leave from thete but Shanthi alerts her that she doubts Venba is pregnant. Venba lashes out at her. Later, Saho inquires Rathnam when will they fulfill their demands. Rathnam complaints to him that he was shooting people without hesitation its wrong. Saho shares with him that he killed his brother it's not wrong. He killed him because he done a mistake. Rathnam tells him that he is considering him as a life too. He adds that his demands were highly risk one.
Government won't release 20 terrorist together. 500 crores transaction and weapons. It's impossible to fulfill his demands. Government denied his demand. If he give another option they will talk with government again for him. Saho shares with him that he said their decision. Now it's his turn to show his power. It's wrong to talk with them in soft tone. He will show his real face to them. Jessy fears that they will take some wrong moves. Meanwhile, Saho asks his team to get alert. They takes Hema from there. Lakshmi stops them and demand terrorist to take her with them along with Hema. They takes the kids from there.
Soundarya noticed kids were under gun point. She fears something will wrong happen to them. Saho announces to everyone that Government not ready to fulfill their command. If they don't listen to them then he will kill these two kids first. Doesn't he released 10 hostages when government released Selvam. He demanded them to fulfill their demands in 1 hour. Later, Soundarya shares with Venu that all her family members were stuck in hospital.
Already they were torturing Bharathi in separate room. Vickram assured to her that nothing will happen to kids. Later, Jessy says to Rathnam that they were talking with them soft that's why Terrorist are playing with them. Lets take immediate action against them. Rathnam tells her that they wants to answer everyone. Rathnam and Jessy are checking Viswa's dead body. They finds a paper in his pocket. Kannamma who noted the blue print in it and placed it his Viswa's pocket. Rathnam feels grateful after gets a new way to enter into Hospital. Rathnam doubts who send this blue print to them.
Hema cries in fear. Kannamma consoles them. Kannamma inquires Lakshmi what's the need to go behind Terrorist. Lakshmi shares with her that she won't sit quiet if something happen to Hema. She adds that she is resembling Kannamma in everything. She wants to be bold like her. She asks her to sleep. Kannamma and Anjali are discussing about Lakshmi and Hema's bond. Kannamma says to her that they were twins that's why they are maintaining a good bond. Lakshmi hears it and confronts Kannamma. Kannamma accepts it. Lakshmi is happy to learn it. Kannamma reveals the truth to Lakshmi
Episode end