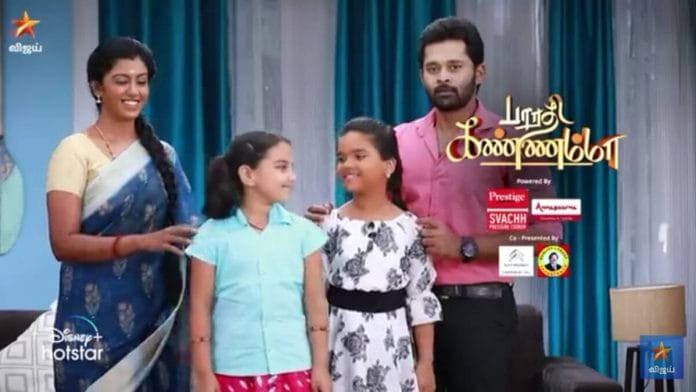 Bharathi kannamma 1st June 2022 Written Update on TellyExpress.com
The episode starts with Venba, she pretends like innocent in front of Sharmila. Sharmila shares to her that she find out the reason why did groom refused to marry her? Venba says that all groom gonna rejects her she don't wanna see her mom getting insult in front of all. Stop searching groom for her. Sharmila says that she has no problem at all. She already fixed one groom he will meet her in evening. Venba adds that she is pretty tired so she will meet him tomorrow. Sharmila is adamant in her decision.
Shanthi enquires her how will she stop this alliance? Venba says that she gonna attack him. Later Lakshmi and Hema are discussing about speech contest. Lakshmi asks her Is she invited Kannamma for it? She feels emotional when did she forgot it? Kannamma comes there and praises her dress. Hema cries and apologized to her for not inviting her? Kannamma consoles her.
Hema thinks Kannamma may ready to marry her father that's why she is mentioning Lakshmi as her sister. Soundarya comes there learns from her what happened there? Soundarya asks to Kannamma will Bharathi attend this function? She says no idea at all. Hema assures to them dad will definitely attend the function.
Later Everyone attend the function. Staff welcomes Vickram as the chief guest of the function. Soundarya complaints that he didn't shared to them about it all. He tells her its just a surprise. Staff praises Vickram and his charity.
Just then Bharathi reaches there he gets shock to see Kannamma there. Hema goes to bring him there. Hema makes him sit beside Kannamma. He asks her why is she here? Kannamma gives fitting reply to him. Later Vickram gives his speech there. Later staff announced the winner of something contest. Bharathi congratulates Hema for won the prize. Hema meets Vickram on stage. He requests her to talk the topic again in front of all.
Hema gives her speech to all. She praises her father in front of all and adds that he is worlds best father. Bharathi feels on cloud nine. Lakshmi imagines like she is giving that speech in front of all. Bharathi and others claps for her speech. Lakshmi feels emotional when she can't able to talk like that and mention her father as dad in front of all. Kannamma notices her.
Everyone appreciated Hema there. Hema invites Bharathi on stage. He goes there. Hema adds that everyone eat with their friends mom she misses her mom a lot. She praises Kannamma there. She adds that Kannamma whom take care of her like her own daughter. She requests Kannamma to come on stage and give this prize to her along with Bharathi. Kannamma hesitates but Soundarya forces her to go there.
Episode end..