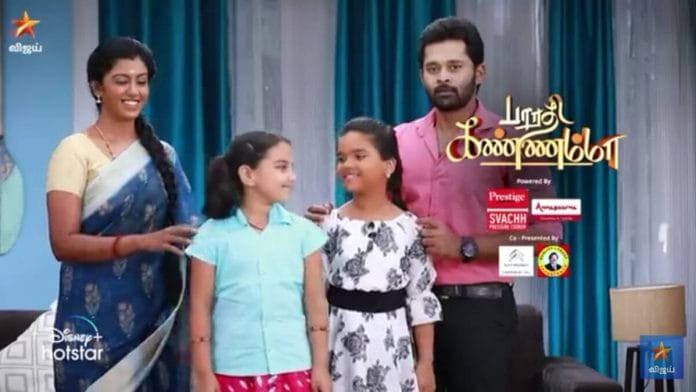 Bharathi kannamma 20th December 2022 Written Update on TellyExpress.com
The episode starts with Bharathi noticed Hema and Lakshmi are playing with Pooja. Bharathi says to them that he heard them joined in new school. Lakshmi asks him why he is troubling them again? Hema asks him to do a favour to them. Bharathi assures to help them. Hema demands him to leave from there. Bharathi asks them didn't they forgive him? Hema and Lakshmi to stop troubling them and leaves from there.
Pooja asks Bharathi Is he Lakshmi's father? He nods with her. Pooja tells him that both are angry on him. Bharathi says that he came here to console them. Ganapati comes there and asks him what's going on? It seems they are adamant like his wife. Meanwhile someone throw paper ball on him. Ganapati says that someone attacking him. He about to throw the paper ball outside. Bharathi stops him and read the letter. I love you Daddy wrote in it.
Bharathi tells him that Hema sent it to him. She was the one gave clue to him. Ganapati asks him doesn't she scolding him whenever he meets her? Bharathi says that Kannamma and Lakshmi are with her. That is why she pretending to be angry with him. She loves him a lot. Later, Kannamma asks Hema and Lakshmi why did they return home asap? They went to play outside.
She asks them did they fight with each other? Lakshmi informs her that Doctor troubling them a lot. He ruined their mood. They refused to talk with him. Kannamma asks Bharathi doesn't he have sense? What's the need to trouble them? She says that total villagers are against him. No one will give food to him. Bharathi laughs at her. Kannamma asks him to go back to Chennai and give treatment to his patients instead of wasting her time here.
Kabnamma asks him to stop laughing at her. Bharathi tells her that villagers asked everyone to avoid him. Who will talk with him will be avoided by villagers. Kannamma talking with him so villagers will avoid her too. What will she do here. Let's go back to Chennai. Kannamma leaves from there. Ganapati says that Kannamma will kill him it seems. Someone throws a paper on him. Bharathi reads it. He tells him that Hema asked him to keep his faith. Ganapati leaves from there. Bharathi gets happy to hear it. Ganapati goes to buy the things. No one is ready to sale the things to Ganapati.
Meanwhile, Soundarya cries thinking about Bharathi. Venu consoles her. He asks her to stop worrying about him and eat food. Soundarya tells him that she doesn't know whether Bharathi eating food on time or not? How she will eat food when her son suffering there. Venu tells her that he will get food there. He asks her to call Bharathi. Ganapati tells him that everyone refused sale things to him. He is starving. Soundarya calls Bharathi to inquire him about his well abouts? He lies to her that he ate good on time. Ganapati cooked for him. Soundarya gets happy to hear it. Kannamma gets emotional seeing Bharathi struggling there. Kannamma demands the kids to leave from there.
Episode end