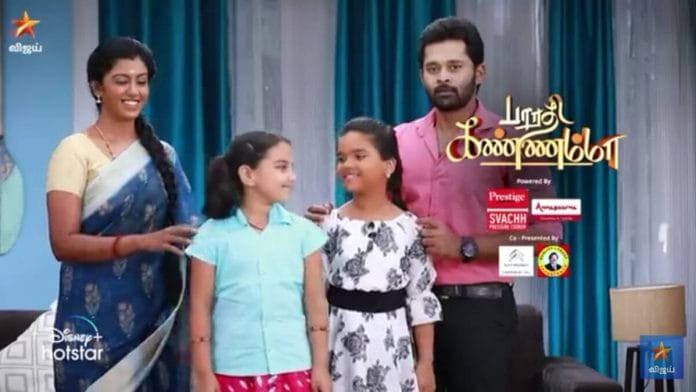 Bharathi kannamma 21st September 2022 Written Update on TellyExpress.com
The episode starts with the Terrorist pointing gun at Vedhachalam. His security pleads with the terrorist to don't shoot him. The terrorist shares with him that he left him alive to get his demands fulfilled. But government denied their approval and entered into hospital. They started attacking their brothers. He about to shoot Vedhachalam but Police shoot the Terrorist. They saves the minister from the Terrorist.
Meanwhile, Saho demands police to gun down. He gives a count down to him. He threaten police team that he will kill the kids. Shakthi reminds his mom's words and gets emotional. He shoots at Saho. Saho asks him why did he back stabbed him. Police shoots at him. Rathnam questions Saho why is he laughing at him without fear?
Saho shares with him that everyone are gonna die in few minutes reasoning he fixed bomb on Bharathi. If it blast then this hospital and surroundings will explode. Rathnam inquired him where is Bharathi? He laughs at him and says that he won't reveal it. Police shoots at him in anger. Later,
Rathnam questions Shakthi Bharathi's whereabouts? He shares with him that he doesn't know about it. Bharathi asks Kannamma to leave from there but she is adamant not to leave. Vedhachalam's wife meets Soundarya and handover kids to them. She makes sure Soundarya is the grandmother of Lakshmi and Hema. Soundarya inquires Hema about others! She shares with her that Anjali and Kannamma went to search for Bharathi, Akhil. They didn't return to hall after they got caught. Soundarya fears the worst after hearing it.
Meanwhile, Anjali breaks the handcuffs on Akhil. He inquires her about kids? She shares with him that police take Hema and Lakshmi out safe. Kannamma went to search for Bharathi. She would have find him out now like the way she found Akhil. Later, Bharathi demands Kannamma to leave from there but she is adamant not to leave him alone. He shares with her that Hema, Lakshmi needs any one of them.
Kannamma denied it. Bharathi reveals to her that the terrorist fixed bomb on him. Kannamma gets shocked to hear it. She demands him to stay quiet. She won't leave him alone. Lets escape together or die here. Bharathi demands her to leave from here. Kannamma make a video call to Soundarya. She demands her to give the phone to bomb defuser. Soundarya fears the worst.
Kannamma asks them to guide her cut the right wire. Bharathi asks the police to take kannamma out from here. She shouldn't risk her life. Kannamma asks him to stop diverting her. They asks her to cut the yellow wire then red wire. Jessy takes everyone out. Kannamma cuts the red wire. Bomb diffused. Kannamma hugs Bharathi in happiness. Police comes there and unlocks Bharathi. They takes him out. In News they mentioned about police saved the Captives and Selvam escaped.
Episode end