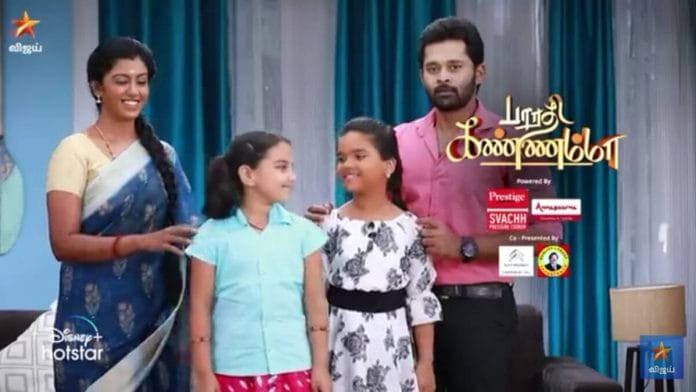 Bharathi kannamma 22nd November 2022 Written Update on TellyExpress.com
The episode starts with Bharathi returning to home. Soundarya asks him why he is in rush? He usually don't return home early? Bharathi tells her that he wants to leave to Delhi for emergency purpose. He doesn't have enough time. He has flight in 2 hours. He rushes to his room to pack his things.
Soundarya says to Venu that he usually inform them early if he going out. But he didn't inform her about this trip. Venu says to her that he may be going to attend a medical conference. Bharathi packing his things. He thinks that if result comes positive to Kannamma he will return to home and accept both Lakshmi and Hema as his own daughters. He is ready to apologise to Kannamma for his mistake. If result don't match then he won't return to home. Whole family went against him. Only his dead body return to home. Later, Bharathi about to leave. Soundarya asks him why didn't he informed her about this conference? Bharathi tells her that he forgot to inform her.
Bharathi asks Soundarya to bless him. Soundarya asks him why he is behaving weird. Venu asks her to bless him. They bless him. Bharathi thinks that it may be the last time he is meeting them. He blessed to get them as his parents. He slips in stairs. Soundarya asks him to be careful. Bharathi assure her and leaves. Soundarya shares with Venu that she is feeling something strange. Later, Hema doubts how she is going to find out her father? Lakshmi comes there and turns on the TV. Hema asks her to turns off the Tv reasoning her head aching. Lakshmi refuses to turns it off. Hema arguing with Lakshmi over it. Hema gets frustrated to see her attitude.
Lakshmi asks her to close her eyes or go inside. Later, Hema noticed that Lakshmi fall asleep. Hema changed the news channel. She hears a news about a father stole his own child and throw it in an orphanage. He threw that baby in an orphanage in the anger on his wife. Hema remembered the way Kannamma informed her that someone stole her baby after birth. Hema doubts that her dad threw her in an orphanage. That is why she isn't ready to reveal her father identity.
Hema wishes to find out the truth. She thinks that she is able to find the truth if she inquire about it in the orphanage. She doubts where is that Orphanage? She isn't aware of that place. She remembers the way Soundarya sent donation money to Thambaram orphanage. She wishes to find out the truth. Hema gets out of the house. She thinks that she isn't aware of that address. She starts walking on the road.
Meanwhile, Venba gives money to the goons. They complaints to Venba that she isn't giving work to them like before. Venba says that she was busy with her own work. She assures them that she will give work to them. She wants to finish many work. She offers money to her. Later, Venba noticed Hema crossing her. She thinks why she is going to this side? She doubts may be she is going to meet Bharathi. She wishes to take Hema back to Bharathi and gets a good name in front of him.
She following Hema behind. She stops her and inquires Hema where is she going? Is she forgot the way back to home? She assures her to take her back to Bharathi. Hema denied it. Hema tells her that she wants to search her father. Venba asks her doesn't Bharathi her father? She denied it. Hema reveals her that Kannamma already said the truth to her. Venba mocks at her and says that even Kannamma doesn't know who is her father? Hema doesn't have father. She badmouth on Kannamma which makes Hema furious. She hits Venba with a stone and runs from there. Venba demands the goons to caught Hema.
Episode end