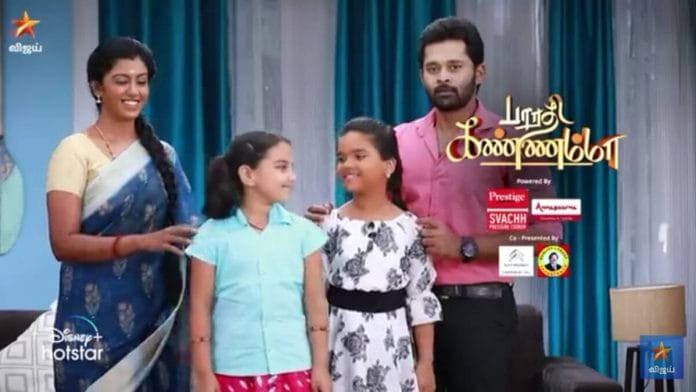 Bharathi kannamma 22nd September 2022 Written Update on TellyExpress.com
The episode starts with Venba waiting for her test result. Shanthi questions her why is she looking so tensed? Venba shares with her that she gave pregnancy test in lab she is waiting for it result. She fears that mom will reach here before it. Venba collects her report and gets shocked to see the result is positive.
Meanwhile, Soundarya takes Bharathi to home. Kannamma about to leave from there but Soundarya stopped her. She requests Kannamma to stay in her house reasoning it's a rebirth to everyone. Kannamma refuses to stay there reasoning she has many works to do in home. Lakshmi pleads with Kannamma to stay there. Soundarya asks Mallika to take dhriti to them. Bharathi adds that it unnecessary. Soundarya shares with them it's a rebirth to everyone here. After the rituals she takes everyone inside.
Vickram shares with Everyone that he is happy that no one harmed in this mission. By God grace everyone come out of the hospital safe. Vickram asks Bharathi and Kannamma to take two days leave and go out to change their mind. Soundarya cries her heart out. She shares with them that she would have killed herself if something happen to them.
Venu asks her to stop talking like that. Kannamma decided to leave from there reasoning it's not her house. Venu requests Kannamma to stay with them for one day. Kannamma thinks that she never stayed in this home after that incident. She doubts whether to stay here or not? Everyone requests her to stay there. Venu shares with Kannamma that he can't able to open the hospital untill the renovation work completed. No one will disturb her for it.
Anjali and Hema pleads with Kannamma to stay in home. Kannamma agreed to stay there for her sake. Venu asks them to fresh up. Meanwhile, Venba is frustrated after learning her pregnancy. She fears what she will do next? Shanthi asks her to calm. She blames herself for being careless. Rohith comes there singing. She complaints to him that he is irritating her. He gives sweets to her. Venba asks him why is giving sweets to her? Rohith shares with her that something good happened to him. That's why he giving sweets to her. Shanthi fears that Rohith may be find out Venba's pregnancy. Rohith shares with her that he is aware of that good news.
Venba questions him how come he knew it? Rohith shares with her that it's flash news. Venba alerts Shanthi that he is talking about something else. Rohith reveals to them that Police set free Vickram Babu hospital. He gives sweets to Venba for Kannamma and Bharathi escaped from the terrorist. He finds out Venba is hiding something from him. He warns them that they can't able to hide anything from him long. He will find it out asap. Venba demands Shanthi to don't reveal this matter to anyone.
Meanwhile, Hema has a nightmare. Lakshmi consoles her and motivate her. Hema hugs Kannamma and cries in fear. Hema shares with them that she is getting bad dreams. Kannamma consoles her. Soundarya motivates Lakshmi and Hema. Soundarya appreciate Lakshmi's love for Hema. Kannamma reveals to her that Lakshmi learnt the truth about Hema.
Episode end