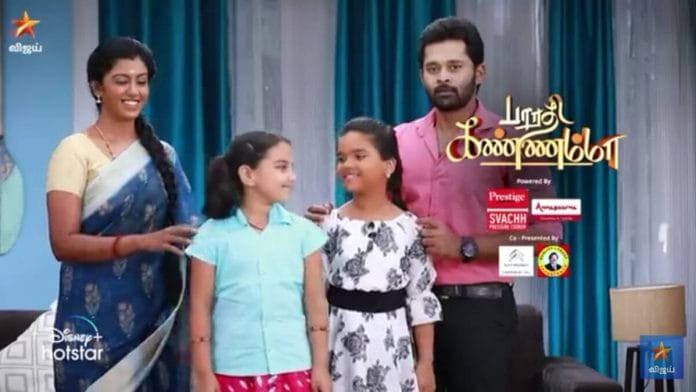 Bharathi kannamma 23rd January 2023 Written Update on TellyExpress.com
The episode starts with Bharathi stopping Kannamma. He regains his memory. He tells her that he remembers her. He hugs her in happiness. Soundarya is happy to hear it. Bharathi informs her that he knew her. She is his Kannamma. Bharathi faints there. Akhil takes him to the hospital. Soundarya asks him to call the doctor. Akhil tells her nothing to worry about. The doctor had already informed him it's normal to feel dizzy after surgery. Soundary splashes water on him.
Bharathi gains consciousness. Bharathi asks them who they are? Ganapati was disappointed to hear that. Soundarya asks Akhil to contact the doctor and ask him what's going on here? Akhil calls the doctor. Akhil narrates to him what happened there. The doctor informs him that there is nothing to worry about. It's short-term memory loss. He recognised Kannamma. But his brain felt the pressure to recall the past. So, he fainted due to stress. He advises them to introduce themselves to Bharathi again.
Kannamma is registered in Bharathi's subconscious mind. They shouldn't stop recreating their past incidents. If they continue it, he will definitely get back his memories. They shouldn't give up on this matter. Akhil narrates to Soundarya what the doctor said to him. Akhil says to Bharathi he is a doctor. He forgot everything after he met with an accident.
Meanwhile, Lakshmi and Hema are waiting for Kannamma at home. Hema inquires Kannamma what happened to Bharathi? Did he recognise her? Kannamma shares everything with Tamarai. Hema worries about Bharathi. Kannamma tells her that he recognized her but forgot her after that. Tamarai tells her Bharathi didn't forget her in this situation either. She could understand his love for her. She shouldn't ignore him. He cares for her. He failed to recognize his mom. But he recognised Kannamma. Doesn't she care for him?
Kannamma tells her she may be right. He remembered her but she didn't forget whatever he did to her. He listened to Venba and ruined her life. She won't forget his betrayal. She leaves from there. Lakshmi and Hema are disappointed with her. Later, Soundarya asks Kannamma how to bring his memories back. Ganapati tells her, let's recreate that Vilakku pooja. Akhil says to him that the doctor advises him to recreate something better. Those incidents might have a good impact on his heart. Anjali says to Kannamma, doesn't she remember her beautiful moments with Bharathi?
Kannamma tells her nothing like that happened in her life. She couldn't remember anything. She couldn't forget his betrayal yet. Anjali asks her to try it once. Kannamma asks Ganapati to bring Bharathi to meet her. Meanwhile, Soundarya and others are keeping a close watch on Bharathi. Kannamma singing " Bharathi Kadhaliye song". Bharathi gets nervous hearing that song. He gets flashes of his beautiful moments he spent with Kannamma. Bharathi searches for her. He finds Kannamma at the end. Everyone is waiting to see his reaction. Bharathi sings the remaining lyrics, surprising everyone. Bharathi faints again. Everyone is worried about him.
Episode end